Balboa Banquet at Fitzroy
by swingadmin on 23rd June 2017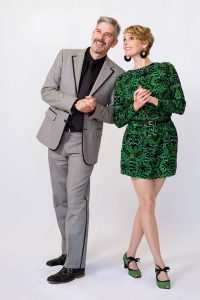 Four weeks with Balboa Champions, John & Julia Wharington, at our regular Thursday night Fitzroy venue. Featuring THREE CLASSES (total beginner, intermediate and high level 3 Balboa) followed by free social dancing with some of our favorite Balboa DJs.
No matter what your level of Balboa experience, don't miss this opportunity to learn with two of Australia's finest.

photo by Michael Collins
Where: Swing Patrol Fitzroy St Brigid's Hall 378 Nicholson St. Fitzroy North
When: Thursdays 6, 13, 20 & 27 July 2017
6.30pm A total beginners balboa class
7.30pm An intermediate class, for passionate balboa dancers and fast learning lindy hoppers.
8.30pm A high level 3 balboa class, for all those who love social dancing bal and/or planning to compete at AJC.
9.30pm FREE social dancing to balboa DJs playing music for all dance styles.
In addition to regular swing classes with Noni & Gabby.
Who: For the Balboa-curious, occasional dabblers and serious Bal-heads.
How much: $16 for one lesson, $24 for 2 lessons, $30 for 3 on the same night.
Check out the Facebook event for updates.

YOUR TEACHERS
John Wharington has been teaching Balboa regularly since 2007 with a focus on creative teaching techniques, distilling the dance to its essence, and bringing an infectious enthusiasm to his classes. He's taught numerous interstate workshops, travels to the USA annually for Balboa, has attended The Balboa Experiment various times, and is a successful competition dancer. John has an analytical approach to the dance and loves to explore the frontiers. He is highly motivated by seeing his students' progress.
Julia Wharington found her passion for all things swing in 2008 and has been teaching Lindy Hop, Balboa and Blues since 2011. She saw a couple dance Balboa at her very first social dance night and has been fascinated by this intricate and elegant dance ever since. When she met John, she had found the perfect partner to take her Balboa dancing to the next level. She loves social dancing, enjoys competing, and frequently travels around Australia and the US to work on her Swing dancing. For Julia, the most beautiful thing about teaching dance are those times when the students have little light bulb moments, when it all sinks in and suddenly works.
John & Julia are three-time Australian Balboa Championships (that's six wins for John and four for Julia.) They've also placed in the American Classic Balboa Championships and in competitions at All Balboa Weekend in Cleveland, USA and California Balboa Classic. They have taught locally and interstate, from absolute newcomers to the most advanced dancers in the country. They've just returned from All Balboa Weekend 2017, where they were guest instructors.
Watch John & Julia dancing Balboa:

Want more Balboa?
Swing Patrol holds regular weekly Balboa classes from beginner to advanced levels at Balpit on Tuesdays, and a fortnightly Friday Balboa class and social dance at Club Maxie's.
Find out more about Balboa HERE
and WATCH a demonstration dance at the recent Swing Patrol Meet Our Scene Ball.