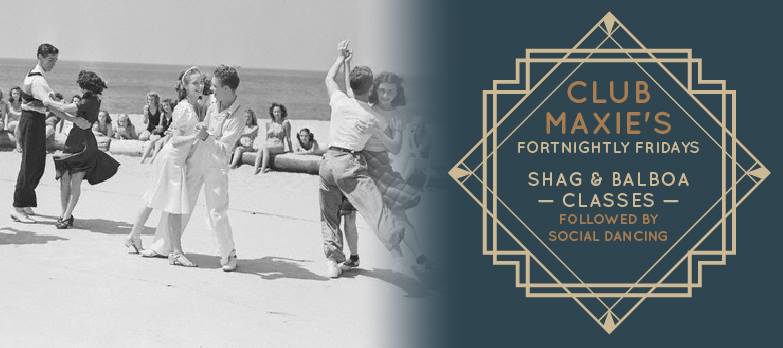 Club Maxie's
Club Maxie's is a fortnightly social swing dancing event for all. There's a focus on Balboa, and the growing Collegiate Shag scene. The music is ideal for those who want some pep in their swing step, with the occasional drop in tempo to get your Slow Dance on.

Join Club Maxie's on Facebook.
Summer schedule:
*Last class & social for 2016: Fri 16 Dec
*Return 2017: Fri 10 Feb

What is Balboa?
Danced in a closed position, Pure Balboa evolved due to conservative dance halls where space was a major issue. Back in the day halls often had strict rules which prohibited the Charleston and other exuberant dances… so a dance which required very little space was rapidly welcomed within the crowded halls.
Naturally the dance evolved and started to introduce fancier variations such as spins, turns, dips, tricks, and even air steps! Today the two dances are acknowledged but are often danced as one, switching between the close style of Pure Balboa and the throw-outs, spins and other moves now known as Bal Swing. Balboa is also combined with Lindy Hop of course and is a great swing dance.
FAQs
What will the music be like?

The music will be general swing with a Balboa and Shag edge. Basie, Goodman, Shaw and some current bands like Campus Five, Tuba Skinny, Michael McQuaid's Red Hot Rhythm Makers to name a few.

Will the music be fast?

No. Balboa, like Lindy Hop (or any dance) can be fast, slow and everything in-between. There will be a wide range of speeds.

Can we dance Lindy?

Sure! We're not the dance Police; there are no restrictions on what you dance. Just come and dance!

Do we need to pre-book?

No.