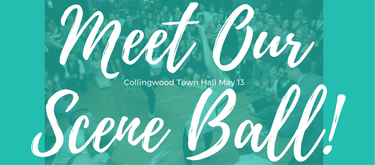 Meet Our Scene Ball 2017
The Meet Our Scene Ball is always a highlight of the year and a great opportunity to meet everyone involved in our Melbourne scene.
Known affectionately as 'The Beginners Ball', it's the night the whole scene comes out to play, to dance with a stranger, find new friends and welcome newcomers to our growing community.
Everyone who has been before knows the nerves of a first ball, and the anticipation. Just relax, take a chill pill and have a great time on the night. If you're worried that you don't know many people, remember many are in the same situation. With so many new people in the scene, even the dancers of old don't know many people.
Details at a Glance
When: Saturday 13 May, 2017
Where: Collingwood Town Hall – 140 Hoddle St, Abbotsford
Time: Doors open at 8.00pm (no earlier), until midnight.
Live Music: Jason Downs' Eccentric
Snacks & Drinks: Bar on site at Collingwood Town Hall, so it's strictly NO BYO.
Cost: $35 (+ booking fee) online pre-bookings, or $40 cash at the door, $15 kids 5 – 15 years.
What's in Store?
* 8.30pm Complimentary swing lesson to kick off the night!
* Performances by Swing Patrol troupes Harlem Shout and The Bluebelles, plus special guests.
* Fun Mix & Meet antics.
* Fashion Parade and prizes for the Best Vintage Look.
* Shoe & Clothing Stall – Bop Jonny's Rock'n'Swing Gear. Website | Facebook
* The much loved Shim Sham, group Charleston and a whole lot of other fun.
* Live music from the sensational swinging jazz band, Jason Downes' Eccentric (a smash hit at the recent All The Cats join In social nights.)
* Even more music from favourite local DJs Tyler Holmes and Barb Heggen.
* Lots and lots of social dancing on the beautiful Collingwood Town Hall dance floor.
How do I Book a Ticket?
Tickets are $35 (+ booking fee) if purchased online before 5pm on Thursday 11th of May or $40 if purchased at the door on the night (cash only). All kids 5 – 15 years $15.
Book now
Who's Who at The Ball
Jason Downes' Eccentric
Eccentric is a small group led by Jason Downes on clarinet and alto sax, playing hot jazz tunes of the 1920s, '30s and '40s. Featuring Sandra Talty (Drums & Vocals), Howard Cairns (Bass) and special guest Steve Grant (piano) come along expecting plenty of fun, exciting jazz and sweet vocals.
Tyler Holmes
Tyler's passion for vintage tunes and original recordings has driven him to amass quite the collection of swinging jazz music right out of the 1930s, to the tunes of Benny Goodman, Artie Shaw and Larry Clinton. Tyler has been DJing since people would let him near the sound system. He is a regular DJ around the Melbourne scene and a staple at SwingMania, and Expect to hear a lot of happy, swinging, shufflin' tunes while Tyler is on decks.
Barb Heggen
One of Melbourne's most experienced swing DJs, Barb has played music at more Swing Patrol events than most. If this is your first Ball, or you 15th, Barb will keep you happy on the dance floor.
Bop Jonny's
Bop Jonny's Rock n Swing Gear was formed in 2011, by Jon Hannon and Zoe Jones. Now owned and operated by Rock n Roll enthusiasts, Mark and Suzie Boswerger, Bop Jonny's stocks a unique range of quality local custom and imported dance wear.
The Bop Jonny's range is the most extensive of its type, anywhere in the world. Bringing together much renowned brands including Bleyer Rock n Roll and Swing shoes, Re-Mix Vintage Shoes and local handcrafted Alexi dance shoes from Melbourne. Bop Jonny's specialises in 1940s, '50s and '60s inspired vintage fashion with a broad range of petticoats and clothing from specialty brands including Collectif, Heart of Haute, Hellbunny and many more.
To place an order or make a purchase via phone or email, refer to the Bop Jonny's website.
Meet the Scene Ball – FAQ
a. Information for Ticket Holders!
If you've been super organised and pre-paid your ticket to the Ball, well done. You're going to have a ball … literally!
Remember, there are no paper tickets for you to collect. Instead, your name will be on our VIP door list. Just walk in, say hi to our friendly door peeps and they will cross you off the pre-paid list before you enter the Ball. If you have booked your tickets in a group, then your tickets will be under the name of the person who booked/paid for them. Make sure you know what name your ticket will be under before you turn up, just to avoid any confusion at the door.
Note that pre-paid entry is general admission and does not guarantee a seat or place at a table. It is simply an entry payment.
b. Table Seating
There will be a limited number of tables around the venue but, by popular demand, we're making sure there's more room for dancing. Tables are not reserved or regarded as permanent seating for anyone throughout the night. Think of them as a place to park your bag, and from there you can dance, grab a chair when you're resting or, if there's no chair available, share a chair and make a new friend. Better still, get back onto the dance floor!! There's also seating in the upstairs gallery, which is a great place to catch your breath while watching the dance floor buzz.
c. What Do I Wear?
Dress to impress! … This is a Ball, after all. Put your best foot forward and come in your finest swing gear – think swirly skirts, floral dresses, zoot suits, baggy pants, braces and maybe even the odd fedora hat and original vintage item – join the fun, and join the Fashion Parade. Prizes for the Best Vintage Look (Man and Woman). And our roving photographer may snap you in your sartorial splendour. Seeking inspiration? Check these Styling Tips from one of the Melbourne swing scene's original fashion icons.
Many will have planned and made this decision already, but if you need tips, the number one thing is to have comfy shoes to dance in.
Swing dancing is hot hot hot! … not a bad idea to bring a change of clothes.
d. Code of Conduct
Never been to a Ball before, or need a refresher on minding your manners? Check out the Swing Patrol Code of Conduct, and use good common sense.
Volunteers
We love our event crew! They make magic happen and are essential to the smooth running of our events. It makes us feel all gooshy inside when we think about how much they do.
In exchange for volunteering on the night, you'll get FREE entry and good swing karma. If you are interested in volunteering at the Meet the Scene Ball, please send an email to Kerryn at kerrynh@swingpatrol.com.au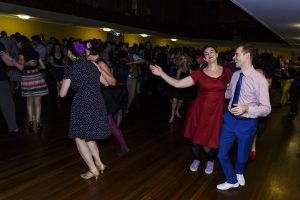 (Meet Our Scene Ball 2016 – original image by Cuskelly Photography)

Book Now!