Reflections on 20 years of Swing
by swingadmin
by Claudia Funder
Director – Swing Patrol
On Tuesday 8 September 2015, at Swing City at The Exford Hotel in Melbourne's CBD, swing dancers past and present gathered to mark the 20th Anniversay of the revival of Swing in Australia.
The night was about the people who were there at the beginning and everyone who has come afterwards and built the Melbourne community into a scene, now world renown.
After quite a few people asked about some of the stories I touched on at the Anniversary night on Tuesday I thought I'd post up my speech notes that I didn't get to cover properly on the night. They're a bit rough as they're just speaking prompters to give me things to remember to mention, not actually written as something to read out.
Where I started
I was teaching ballroom, rock and roll and latin at Two's Company (old Forever Dance space down on the corner) and going social dancing on Monday nights at JAMM, Mark and Anne Marie Wilsons old studio in Templestowe (some might remember him from being a key judge on Dancing with the Stars). On the wall at Two's Company there was a poster of two dancers in open position and she was looking up and out in a twist position. I knew it was "the really early jitterbug stuff" but didn't know much about the dance other than that.
Trish
A girl called Trish came out from London and was looking for lindy classes and showed myself and Glen and Rachael some very horizontal Charleston. Then Glenn and Rachel went to London for a bit and were in the same lindy class as Rob Bloom, who later moved to Sydney.
Canberra workshop – later nominated as the "start"
In 1995 Frankie Manning, Sing Lim, her dance partner Andrew, Jonathan Bixby and Silvia Sykes were brought out by Rosie's Ballroom Studio to do a workshop in Canberra, now famously known as "The Canberra workshop" which was a mix of Lindy, Collegiate Shag and Balboa. My then teacher and teaching partner Steve and I went to that weekend. People were social dancing whatever they knew: some R&R, some ballroom and also playing with what we'd learnt in class. I remember Steve and I fox-trotting around the edge of the ballroom floor to just scope out what was happening and have a look, then setting each other challenges to find someone to dance with and do 8 beat for a whole song to see if we could!
Vic Lindy Hop
After that we formed a group amongst the rock and roll teachers within Melbourne. The early days of the Vic Lindy Hop Committee: Jo Vrachnas, James Thompson, Glenn & Rachael Dallafiore, Helen Abud, Fiona Christensen, Jaimie Suppa, Colin Corless-Brown, Nicky and Barry and myself – I think most of whom had been in Canberra.
Rob Bloom and Annual Workshops
We organised workshops with Rob Bloom coming down from Sydney every couple of months on a regular basis to build our knowledge, dancing and teaching repetoire. In addition to that, Colin Corlass-Brown annually brought out the Rhythm Hot Shots (later they changed their name to the Harlem Hot Shots) for usually a 3 week tour, with weekend workshops in Melbourne, Sydney and Brisbane. Everyone travelled around the country to everything each year back then, and in each workshop there were 60 or so participants although it varied a bit. Mattias and W, Eddie and Eva, Stephen Mitchell and Anna Swejo, Marcus and Barbel were some of the teachers who came out, sometimes multiple times. It was a small, passionate Melbourne group of teachers and that was our high level learning for the year, unless we travelled overseas to Herrang, Catalina or elsewhere. The international workshop weekends here were usually workshop-based, not "festivals" as we now them know, with no socials, or maybe a small social and we'd absolutely never heard of Late Nights. There was no internet as we know it now, maybe a bit of email, and information on a website, but certainly no you tube and registration processes were all done via the post. We also purchased VCR tapes from overseas if we could get them in the right format or get them transferred from PAL format or get a player that could play foreign format tapes. Yes tapes. Pre-DVD. (Savoy Style w Frankie Manning and Erin Stevens; Can't Top the Lindy Hop). Learning by video and the occasional workshop was hard, but in fact incredibly rewarding in its own way too.
Check out some other fascinating resources:
Rob Bloom's History of Lindy Hop in Australia & NZ
Swing Dance History Australia Facebook page
Swing In Australia – Historicalblog
A compilation of Melbourne swing dancing from the early years of the 21st Century (now known as "back in the day".)
The Swing Patrol Melbourne Resources webpage, with video and articles from across the years.
#‎20yearslindyhop‬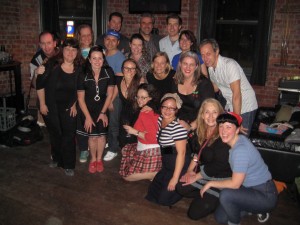 (pic: Silvers crew reunion at Swing City 08/09/2015 – photo by Andy Fodor)