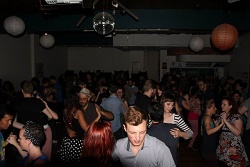 Blues Night
Join us for great fun and great music – in a cool heart of the city venue.
5:00pm – 6:30pm
SPECIAL SESSIONS:
Practice Sessions
6 & 13 August
Cost: $3 cash at the door
A special opportunity for members of the Blues dance community to practice in a familiar environment. Preparing for the Australian Jitterbug Championships?
Need some dedicated time to work on your skills? Whether you plan to stick around for classes, or just want to swing by for the practice session, all are welcome. We'll have music playing, but we're happy for you to bring your own tune.
Performance Routine Class
3, 10, 17 & 24 September and 1 October
Cost: $22 cash per session (or 1.5 circles on your Class Discount Card)
No pre-bookings, simply come along and pay at the door.
You asked for it, so we listened – one routine with all your solo and partnered blues dance joy contained within it, taught at our regular Sunday blues venue! In special 90 minute sessions, we'll teach all the moves and grooves of an exclusive piece of choreography in preparation for the Swing Patrol Performance Ball (Sat 7 Oct.) A great way to focus your learning of Blues dancing, and, if you choose, get set to perform on the night
This is an all-levels routine, which means we have options for our newest blues dancers right up to challenge options for our most advanced dancers. If you have come to a few Level 1 classes (or go to a few Level 1 classes between now and when the routine starts!) you are good to go! For our intermediate and advanced blues dancers, we have a solo blues stepping crew for you to join, with the possibility of some advanced partnering work for those who are interested.
*Monthly* Level 4
29 Jan, 26 Feb, 26 Mar, 30 Apr, 28 May, 25 Jun, 30 Jul, 27 Aug, 29 Oct, 26 Nov
Cost: $22 cash per session (or 1.5 circles on your Class Discount Card)
No pre-bookings, simply come along and pay at the door.
On the last Sunday of each month, for an hour and a half, different teachers will be nerding out over a particular topic. As this is a nerd-out session, don't expect copious amounts of moves. We're going to be exploring a single concept and really digging deep into how that affects our dance (eg – How exactly do I step tap? How can my body move within that step tap? How do I communicate that with my partner?).
You'll need to have quite a bit of blues experience to join this class. Alternatively, some blues experience mixed with a LOT of swing dance experience, so we can really spend the session nerding out. If in doubt, check with the teachers.
6:30pm: Level 2/3
Intermediate
For intermediate and advanced level blues dancers, who have been social dancing blues for many months. This class will be challenging and focus on the "art" of blues dancing.
7:30pm: Level 1
Total Beginners
Drop in any week, all welcome! For new people & experienced swing dancers who have never done blues dancing before. You will learn all you need to get onto the social floor, loads of moves & different styles.
8:30pm til late: Social Dancing
Enjoy great music, dance and socialize. The music ranges from rhythm & blues, blues & roots, slow swing, slow jazz, soul and a hint of gospel, trip-hop and more! Blues night often has the privilege of live music which adds amazing energy to the room. Expect good times.
FREE SOCIAL DANCING at Sunday Blues.
Whether you've paid for a class or just come along for a dance, there will be no charge for social dancing from 8.30pm to great Blues music from local DJs.
Please continue to support Blues at The Exford Hotel – buy a drink at the bar!
See you on the dance floor!