Fitzroy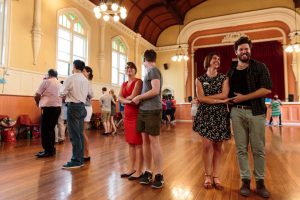 (photo credit: Cuskelly Photography)

Swing Patrol Fitzroy is a local institution – an inner city hub of swing dancing fun.
Join us for classes and social dancing every week.
6:30 – L1 Swing
Total Beginners
Drop in any week, everyone welcome! Each week we start from scratch with the basic steps so you can start anytime. We rotate partners throughout the class so no partner required, all you need is to show up and we'll sort you out from there. If you're keen to get started or want to work on your basic technique, this is the class for you.

7:30 – L2 Lindy Hop
Intermediate
You've got the fundamentals under your belt and are ready for more! We'll provide moves for social dancing, styling to dress up the basics, technique to make it all feel good.

8:30 – Solo Jazz
All levels
Explore all kinds of solo jazz dancing. Develop essential skills that will also inform your partner dancing, enhance your understanding of movement and music, and have fun expressing yourself to great jazz!
Commencing August 2017 – Solo Jazz Performance Routine
Everyone welcome! Come along and learn a fun solo jazz routine, choreographed for the Swing Patrol Performance Ball (Sat 7 Oct.) A great way to focus your learning of solo movement, and, if you choose, get set to perform on the night. Suitable for all levels.

9:30 – Social Dancing
Top local DJs play for your social dancing enjoyment! Lots of space to swing out on this beautiful slick dance floor.
BYO water bottle and swing hard.