Fitzroy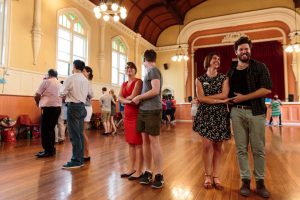 (photo credit: Cuskelly Photography)

Thursdays @ St B's is the week's BIGGEST night of swing: 6 classes in 2 rooms with 4 teachers, plus social dancing on a big and beautiful floor.
You can take any combination of classes and stick around to dance the night away, or just come by for social dancing in this glorious venue.

SPECIAL SERIES
Thursdays 6th, 13th, 20th & 27th July
Balboa Banquet (Side Room)
Four weeks with Balboa Champions, John & Julia Wharington, featuring THREE CLASSES suiting various levels of experience, followed by free social with some of our favorite Balboa DJs.
Whether you're serious about your Balboa, dabbling or curious to try it, don't miss this opportunity for lessons with two of Australia's finest.
6:30 – for total beginners to Balboa
7:30 – for intermediate level Balboa dancers and fast learning lindy hoppers
8:30 – high Level 3 Balboa
Join the Facebook event for more details
6:30 – L2 Lindy Hop
(Main Hall)
Intermediate
You've got the fundamentals under your belt and are ready for more! We'll provide moves for social dancing, styling to dress up the basics, technique to make it all feel good.
6:30 – L1 Balboa
(Side Room)
Beginners
An introduction to the basics of Balboa, for those who are totally new to swing dancing, or have never danced Balboa before.
7:30 – L1 Swing (Main Hall)
Total Beginners
Drop in any week, everyone welcome! Each week we start from scratch with the basic steps so you can start anytime. We rotate partners throughout the class so no partner required, all you need is to show up and we'll sort you out from there. If you're keen to get started or want to work on your basic technique, this is the class for you.

7:30 – L2 Balboa (Side Room)
Intermediate Balboa
This class is perfect for those with the Balboa basics under their belt, or other fast-learning swing dancers.

8:30 – Solo Jazz (Main Hall)
All levels
Explore all kinds of solo jazz dancing. Develop essential skills that will also inform your partner dancing, enhance your understanding of movement and music, and have fun expressing yourself to great jazz!

8:30 – L3 Balboa (Side Room)
Advanced Balboa
A high level Bal class! Ideal for passionate Balboa dancers, those who love social dancing Balboa, anyone planning to compete in AJC Strictly Balboa.

9:30 – Social Dancing (Main Hall)
Top local DJs play for your social dancing enjoyment! Lots of space to swing out on this beautiful slick dance floor.
BYO water bottle and swing hard.