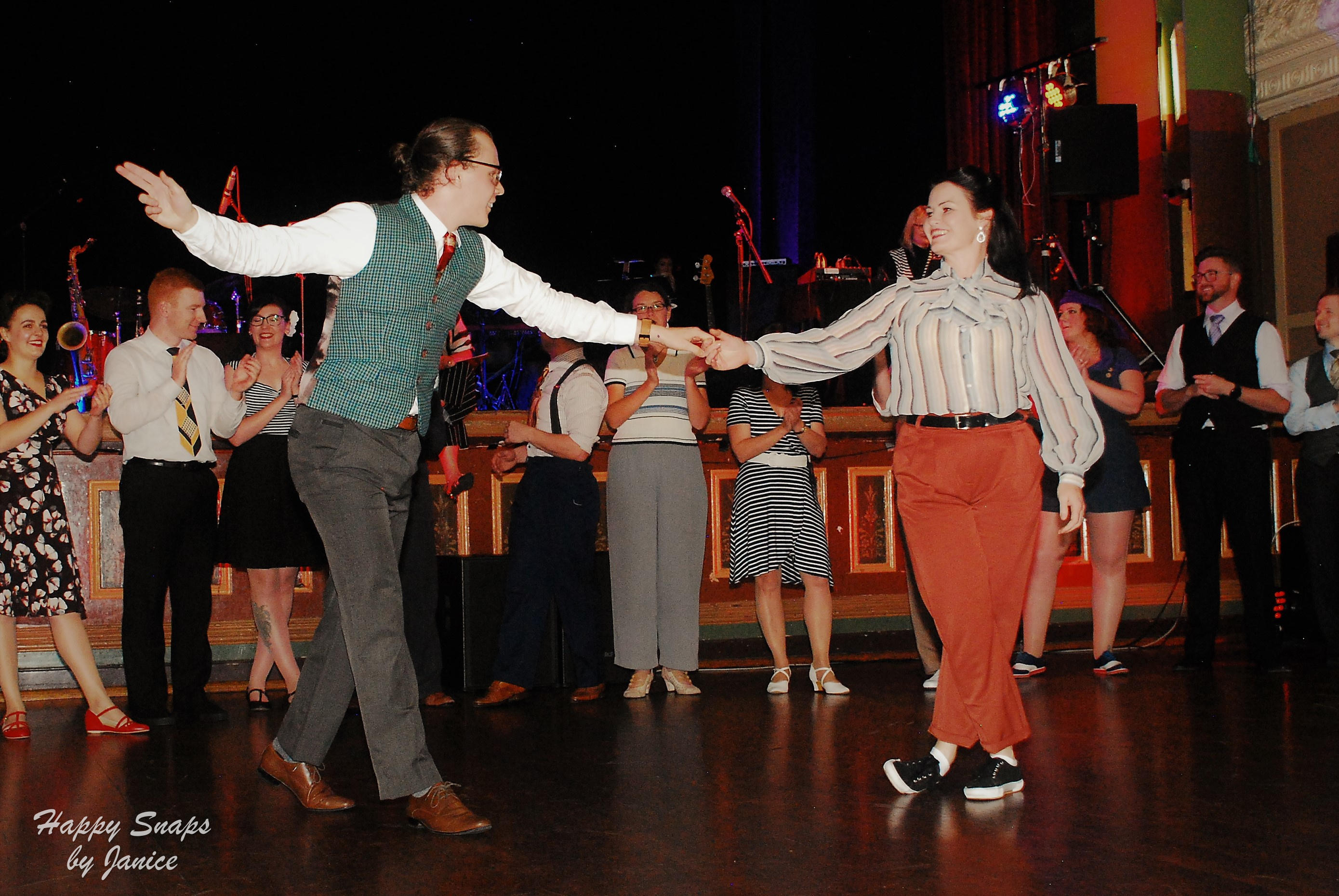 Melbourne CBD


Swing Patrol Melbourne CBD classes scheduled for Tuesday 20 & 27 July are CANCELLED. All bookings will be cancelled and refunded. Funds will be returned in 5-10 business days to the credit card used for purchase.We will continue to monitor the situation, and updates will be published on the website and social media announcing when we can resume classes and open bookings for future dates.

Update July 2021Swing Patrol Melbourne CBD hopes to re-open in August 2021, if Covid restrictions have eased and government guidelines allow for partner dancing activities.
Things will operate differently than in the pre-Covid times, so please read below for details of the changes. Please also read about Swing Patrol's Covid Safe Plan.
Welcome to Swing Patrol Melbourne CBD
* Weekly classes for beginners, beginner plus and intermediate level swing dancers.
* Online pre-bookings essential. In order to adhere to venue density requirements, and to facilitate contactless payment and smooth traffic flow at check-in, we require everyone to register and pay online prior to attending the class.
* Book online, pay with credit card or PayPal account.
Or, if you have a Swing Patrol Class Discount Card, you can book online by selecting the "Pair Pass with Card", "Lead with Card" or "Follow with Card" no-cost ticket and presenting your valid Class Card at the door on the night. For a Pair Pass you need two full circles on your card for one lesson. For an individual Admit One ticket you need one full circle on your card for one lesson. You must present your card at the door before class … No Class Card=No Entry.
* Registrations are now available for Pair Passes (1 Lead & 1 Follow) and for individual Leads and Follows.
So as to keep the Lead:Follow ratio workable for partner dancing, we will monitor bookings very carefully and "Admit One" tickets for individual Leads and Follows are strictly limited. If possible, please register with a dance partner for a Pair Pass. Your dance partner does not have to be your spouse, your relative, your housemate or best friend, or anyone you've regularly danced with before – only someone that you are comfortable partner dancing with in this class.
Need to find a dancer partner? Try posting a comment in the
Swing Patrol Melbourne CBD (Exford Hotel) Facebook group
.
We will change partners through the class, as experience shows dancing with a variety of partners improves the learning experience. Of course, if you choose not to change partners, we completely understand, and will manage the class accordingly.
* Booking for TWO LESSONS on the SAME NIGHT? You pay half price for the 2nd lesson. Here's how:
Select your ticket for the first class, then, in the
Your cart
section on the
Checkout
page, click the
Buy more tickets
link.
Select your ticket for the second lesson on the same night.
In
Your cart
on the
Checkout
page, enter the promo code
2IN1NIGHT
. A discount will be applied to your purchase, equivalent to 50% off the 2nd class.
Please note, this promo code is only valid when booking the same ticket type for 2 lessons on the same night. Not valid when booking two individual tickets for the same lesson (eg. 2 x Follows for Level 1), nor for booking for two different dates (eg. 1 x Pair Pass for 20 April, 1 x Pair Pass for 27 April), nor for booking a Pair Pass for two people to do one lesson.
* Booking for all THREE LESSONS on the SAME NIGHT? Instructions as above, but enter the promo code
ALL3LESSONS
for 35% off your total purchase.
** Only use the discount code for dates on which you are doing multiple lessons on the same night. If you're booking for other dates when you're only doing a single lesson, you'll need to make separate bookings without the discount code. **
Bookings open soon for August dates … we hope!
Registrations will close at 5pm on the day of the class.
Book now
* All attendees will be required to check-in using the venue QR code. This is a Victorian Government requirement, regardless of whether you have pre-registered for the class. Please arrive at least 5 minutes prior to advertised class start time, to allow for smooth check-in process.
From July 2021 – 3 classes per night *NOTE NEW TIMES*

6.00pm – 7.00pm: Beginner (Level 1)
Brand new to swing? This is the class for you. Everyone welcome! This class is all about having fun, getting used to the basic steps, meeting new people and learning about what makes Swing such a wonderful and fun social dance. Assuming no prior knowledge, the instructors will teach all rhythms from scratch and work to build up the repertoire.
7.15pm – 8.15pm: Beginner Plus (Level 1.5/2)
Moving beyond Beginner class, with focus on 8-count swing outs and other classic steps, plus strong lead:follow technique.
8.30pm – 9.30pm: Intermediate Plus (Level 2.5)
Prerequisites are to have at least 2 years of Lindy Hop dance experience, a sound understanding of all rhythms under the umbrella of swing dancing, tons of social dancing experience and the readiness to learn more, more more!
Join the Swing Patrol CBD Facebook page and follow us on Instagram to keep up to date with what's happening at our CBD venue, The Exford.

(Photo credit: Janice Campbell – Josh & Sarah at Meet Our Scene Ball 2018)