The Swing Patrol Story
Claudia Funder and Scott Cupit founded Swing Patrol in 1998 and now head up wonderful swing dance communities Melbourne, Sydney, London and Berlin.
Swing Patrol History: 1997-1998
Where do we start? well, Claudia taught numerous dance styles including Latin, Ballroom, Rock and Roll and Lindy Hop, but was a little frustrated with the dance as the scene wasn't growing as quickly as her passion would like! There was, however, a small group learning Lindy Hop from a range of overseas teachers who came to Melbourne each year. Teachers who included luminaries of the day, such as the Rhythm Hot Shots. They formed a group called "Vic Lindy Hop" and employed Rob Bloom to come down from Sydney to teach regular workshops.
At the same time, Scott had seen Lindy Hop at Disneyland and at a huge News Years Eve Swing Ball in Washington DC. He was hooked! Upon arriving back in Australia, Scott phoned every dance school in the Yellow Pages. Almost none of them had heard of Lindy Hop, or advised that it was not taught in Australia. This wasn't true, of course, as Lindy was being taught in small pockets around Melbourne and had a solid community in Sydney.
Then Scott went web surfing and found Claudia's email on a Sydney web site. Scott and Claudia teamed up, with Scott becoming Claudia's swing crazed and passionate student. To this day Claudia still has that original email sent to her from Scott.
Melbourne was so different back then, with Sydney being the largest swing scene in Australia and Scott and Claudia battled to find anywhere to dance regularly in Melbourne. We would scour the papers and find any thing that said "jazz" to go and dance. The few Lindy Hoppers there were, would follow the musicians such as Ron Trigg, the Pearly Shells and the Moovin' and Groovin' Orchestra around Melbourne. There was no large swing dance community to speak of and almost no one really even knew what swing dancing was.
The Creation of Swing Patrol
This whole thing just started with a genuine and breath-taking passion and love for the dance. We just wanted other people to dance with and we NEVER dreamed Swing Patrol would become known as the largest swing school in the world. Many times we stand back and just marvel at what has happened.
With Claudia's strong dance teaching background and Scott's strong marketing background, we started talking about sharing the dance we loved so much. In April 1998, Swing Patrol became a registered business and on Tuesday August 5th, the first 23 original students turned up to the Rising Sun Hotel in South Melbourne. We taught on carpet, dressed our students in swingy vests and spent most of the time drinking rather than dancing. These were great times; the venue was carpeted and we dressed up in full swing gear every week to teach.
Students loved the new style of teaching and word seemed to spread quickly. Our focus was simply the joy of the dance! After a few months over 100 students were attending our first venue. We took some big risks early on and spending our own money on the first flyers and marketing campaign.
Every weekend, we would letter box drop together. We would have around 3,000 flyers printed almost weekly and promise each other that we wouldn't stop until they were all in letterboxes. Sometimes we would still be out putting flyers in letterboxes at 2am, calling to each other across the street.
The only way to really grow swing was to entrust some of the teaching to others and in 1999 Swing Patrol announced its first teaching team, which consisted of its most promising students. Many amazing people soon followed and it was the quality of people on the team that played a massive role in Swing Patrol's growth. Every person that can say they are (or were) a "Swing Patrol teacher" has been absolutely pivotal in our story and we will be eternally grateful for all the faith they have put in us. They have allowed us to lead them and the aim was always to provide a win–win situation where we have hopefully given our team many great opportunities. While we have in turn been rewarded with great teaching, unrivalled loyalty and some life long friendships.
It would be untrue to say there haven't been tough times and we have made many mistakes. What has made Swing Patrol strong though, is that we have learnt and learnt quickly. We have made some brilliant strategic decisions mixed with some bloopers! We reflect today on all these times and love the learning and experiences.
Ninety nine percent of the journey has been an absolute thrill and we have LOVED it. We think we have the best jobs in the world; the best team in the world and have met some of the most inspiring people one could meet.
Swing Patrol now has one of the most experienced teaching teams in the world with first class troupe dancers who share the dance every weekend across Melbourne, Sydney, London and Berlin.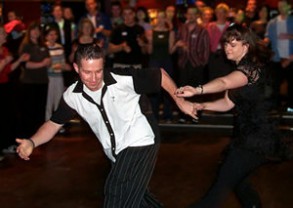 Swing Patrol today
Swing Patrol - fun and friendly dance classes
Today Swing Patrol exists in Melbourne, Sydney, London, Berlin.