Australian Jitterbug Championships 2018
by swingadmin on 22nd June 2018
The sixteenth annual Australian Jitterbug Championships is coming!
Be challenged as a competitor, inspired as a spectator, delighted by great swing music and dancing. AJC celebrates the best in competition swing dancing, plus social dancing to Jason Downes' hot jazz band.
The AJC 2018 competition divisions have something for everyone who wants to step up and get amongst the camaraderie and fun of a swing dance comp.
And this year we have a new range of spectator ticket options, for those who love to dance, and for those who just want to watch.
The official AJC website has all the information for competitors and spectators, including competition division details, registration links and booking links for a variety of spectator ticketing options.
Go to the Official AJC 2018 Website
When: Saturday 18 August 2018
Heats 3pm – 5.30pm
Finals/AJC Ball 7pm – midnight
Where: Collingwood Town Hall – 140 Hoddle Street, Abbotsford VIC 3067
How much:
Competitors:
1 event: $25 (+ booking fee)
2 events: $45 (+ booking fee)
3 events or more: $65 (+ booking fee)
Spectators:
Social Dancer $20/$30
Not Dancing, Just Watching $10
Kids $10
Join us at AJC, proudly hosted by Swing Patrol, celebrating its 20th anniversary in August 2018.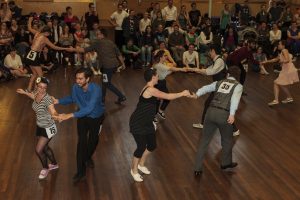 (photo credit: Cuskelly Photography)