Collegiate Shag
by swingadmin on 31st May 2018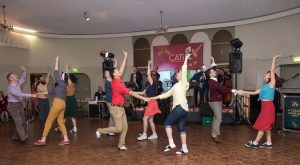 (photo credit: Wills Photography)
Whether you're Collegiate Shag-curious or a Shag aficionado, whether you're a confirmed Shag lover or never danced a step before, now is the time to explore this fun and fluid swing dance.
Not only does Melbourne boast some of the world's best Collegiate Shag dancers and teachers, we also have great international instructors visiting in July.
You can take regular classes at two Swing Patrol venues, AND take part in a workshop to further develop your Shag skills.
Coburg Collegiate Shag
Learn to dance Collegiate Shag with dedicated classes every single week.
Every Thursday night
St Augustine's Anglican Church Hall:100 Sydney Road Coburg
With Nial Bruce and Annabelle Hale, Australia's preeminent Shag teachers, who have competed and taught locally and internationally to great acclaim.
7pm Level 1 – start from scratch, come any week, learn the fundamentals.
8pm Social dancing/consolidation – practice and improve.
8.30pm Level 2 – intermediate Shag dancers welcome, more moves, technique and extra fun.
Join the Facebook page for details, tips and clips.
Club Maxie's
Fortnightly on Fridays in Prahran
6.30pm Level 1 Collegiate Shag class, taught by some of the best Shag dancers in town.
8.30pm Social dancing – Melbourne's number one Shag social spot, where the music is just right, there's a relaxed social atmosphere and you know there'll be Shag on the dance floor.
Workshop with Peter Flahiff and Lauren Smith
Saturday 28 July
Forever Dance, Richmond
Peter & Lauren are known for their relaxed and easy Shag style, and their fun approach to teaching. Many accomplished Shag dancers cite Peter & Lauren's workshops as game-changers, transforming their understanding of the dance and giving them the skills to dance all night and love it!
This workshop is for intermediate level Shag dancers, assuming some basic knowledge of Collegiate Shag.
Full weekend passes also available, if you'd like to combine Saturday Shag and Sunday smooth LA-style Lindy Hop.
Click here for details.
Need some Shag-spiration? Watch Melbourne's own Double Rhythm Riot: