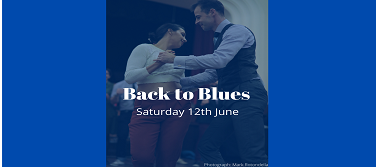 Back To Blues
WORKSHOP POSTPONEDDue to Covid Safety considerations, we will be unable to hold this workshop on 12 June 2021. We fully intend to reschedule to a later date, but we can't know what that date will be until we have a clearer picture of the Covid situation in the community.The workshop has been very popular and tickets in high demand. We know that people have gone to some effort to secure a place. For this reason, we don't want to automatically cancel and refund every booking, only for people to have to go to the same effort again later. We want to give people the option of keeping their booking secured for the rescheduled workshop.We will therefore keep everyone's booking, to ensure they will still have a place. Swing Patrol will contact everyone directly when we announce the new date in future, at which point they can request a cancellation and refund if that date doesn't suit.Of course, anyone who wants to cancel their booking immediately simply needs to contact info@swingpatrol.com.au to advise, and we will provide a full refund.
"We acknowledge and honour the African American communities that created blues music and dance. On the background of slavery and oppression, these art forms represent a triumph of human spirit, courage, creativity and resilience. We appreciate the opportunity to participate as guests in this living culture and study the cultural values and history of the blues"
Aims
We are all feeling rusty and maybe even a little disconnected from our beloved blues dancing and our own bodies. We offer this workshop for dancers with some blues experience as a re-introduction, an opportunity to rediscover the joy of dancing both solo and partnered.
We will have a gentle teaching pace, lots of opportunity for exploration and tons of our favourite blues songs!
WHERE & WHEN
Saturday 12 June 2021
Glow Dance – Level 1, Unit 8 / 252 St Georges Road, Fitzroy North, Vic, 3068 (enter via Fergie St)
Facebook event
Please note: no hard heeled shoes are to be used on the sprung dance floor of the Glow studio.
Schedule and Content
2.20pm Student check-in
2:30-3:30pm Class 1: Feeling the fundamentals: individual movement, rhythms and blues aesthetics
15min break
3:45pm-4:45pm Class 2: Coming back together again: a gentle re-introduction to partner dancing
15min break
5:00- 6:00pm Class 3: A little bit of chorey … a small blues piece mixing solo and partnered dancing that will bring us together in celebration of blues
6:00 – 6:30pm Social dance/practice time
6:45pm – join us for pizza nearby at 1000 Lire
COSTS AND REGISTERING
Online registration only
$60 per person
$120 Pair Pass (1 Lead & 1 Follow)
If you're registering for you and a friend, make sure you register Leads and Follows separately by clicking "Buy more tickets" – please don't book 2 Follow tickets for a Follow and a Lead. Or you can buy a Pair Pass in one single transaction (for 1 Lead and 1 Follow.)
Registrations will close at 5pm on the day prior to the workshop.
Bookings will re-open when a new date has been scheduled.
Swing Patrol and Covid Safety
Swing Patrol will take the following precautions to prioritize the safety of students, teachers and the wider community.
* DO NOT come to the workshop if you are unwell, if experiencing any Covid symptoms, if you have been in contact with a positive Covid case or have recently been at an identified exposure site. Refunds will be available if you need to cancel due to illness/Covid Safety.
* QR code check-in is mandatory, even if you have pre-booked online. Please have your smart phone with you. Our teachers can help if your phone can't access QR code.
* Everyone will sanitise hands upon entry to and exit from the venue, and sanitiser is available for use whenever you wish throughout the workshop. You may wish to bring your own mini hand sanitiser to use during the session, to speed up the process.
* No shared water or food, no water glasses provided, no mints or lollies/snacks. BYO water bottle.
* We ask that you observe and comply with signage displayed at the venue, as we must operate in accordance with Glow Dance's Covid Safe Plan.
* Please adhere to physical distancing protocols when not on "the field of play" (ie. the dance floor).
* Face Masks should be worn in accordance with current DHHS guidelines. Where masks are not mandated, attendees may choose to wear a mask at any time before, during or after class. Note that masks are not recommended when out of breath or puffing from strenuous exercise (eg. dancing) and that masks are less effective when damp. Always handle masks with care and do not dispose of your mask at the venue.
Click here to read more about Swing Patrol's Covid Safe Plan.
WHAT TO BRING
Comfortable shoes (soft soled shoes only please), deodorant, spare t-shirt, small towel, band aids – dancing is exercise, and you may well break a sweat, so be prepared.
You must bring your own water bottle. There will be no shared water or food, no water glasses provided, no mints or lollies/snacks on the table.
Please bring your smart phone with you, for mandatory check in by QR Code.

No partner required
No need to register with a partner. We rotate partners throughout the workshop – a great way to meet new people, all sharing the same fun learning experience. We find that changing partners improves the learning experience, but, if you come with a partner and do not wish to join in the rotation, just let us know at the start of the session and we'll manage accordingly.




Want to know more?

In most Swing Patrol classes and workshops, we change partners frequently throughout the lesson, so everyone gets the chance to dance with different people, for a taste of lead & follow social swing dancing. So bringing a partner is not necessary.
We do ask people to join in the rotation and dance with everyone. It can be beneficial to the learning experience to feel what it's like to lead or follow a move with a variety of people, of different sizes, strengths, abilities etc. Not only is it lots of fun, dancing with lots of people accelerates your learning hugely. Of course, the key focus of any Swing Patrol class is having fun and enjoying yourself, so if you're really not keen to change partners, it's a good idea to mention it to the teachers so they can accommodate.
Lead or Follow?
This workshop will involve partnered dancing so you will need to sign up as either a Lead or a Follow. We don't mind which role you do!




Want to know more?

Swing dancing is a partner dance, in which there's a Lead and a Follow. The Lead "directs" the dance, indicating the moves and the direction. The Follower responds to the lead, but has room to add personal styling/embellishments. Like jazz/swing music, it's seen as a "call & response" partnership.
If you equate it to something you may be familiar with, such as Waltz or Quickstep (like Fred Astaire & Ginger Rogers), then the male is usually leading and the female following.
At Swing Patrol, we do make every effort to encourage people not to choose which role they learn simply based on their gender, and many people do dance both the lead and follow roles.
Please email info@swingpatrol.com.au if you have any questions about these roles.
Cancellations and Refunds
COVID SAFETY
DO NOT come to the workshop if you are unwell, if experiencing any Covid symptoms, if you have been in contact with a positive Covid case or have recently been at an identified exposure site. If a pre-booking has been made, Swing Patrol will provide a full refund. Contact info@swingpatrol.com.au
If a Teacher is unable to attend due to illness/Covid Safety, and a substitute teacher cannot be found, the workshop may be cancelled at short notice. Students will be contacted via booking information and via social media to advise of workshop cancellation. Pre-bookings will be refunded if Swing Patrol cancels a workshop.
OTHER CANCELLATIONS
Due to current density restrictions, numbers are strictly limited. Therefore, if you wish to cancel for a reason other than illness/Covid Safety, refunds are not possible without 48 hours notice as we may have turned away other dancers. Thanks for understanding.
Where applicable, a full or partial refund (less administration fee) may be available up to close of registrations, if cancelling for a reason other than illness/Covid Safety. Contact info@swingpatrol.com.au
After close of registration, no refunds will be issued, unless cancelling due to illness/Covid Safety.
We are pretty friendly and approachable so send an email and hopefully we can assist you!
YOUR TEACHERS
Shob and Andy fell in love with blues from their early days of swing dancing 15 years ago, and they are still so passionate about exploring and sharing this art form. They are two of Australia's most sought-after blues instructors, having taught extensively around Australia, NZ and recently Madrid.
Together and separately they have won multiple titles in blues and slow swing, including the Australian Blues Championships. Shob is also the creator and co-director of Slowdown, Australia's first ever weekend dedicated to celebrating all forms of slow dance.
They are both students and teachers of this beautiful dance and take any opportunity to learn and challenge themselves. They are inspired by the original African American musicians and dancers who created this art form and are humbled by the opportunity to share it with others.
Watch Shob and Andy performing a beautiful Blues dance.