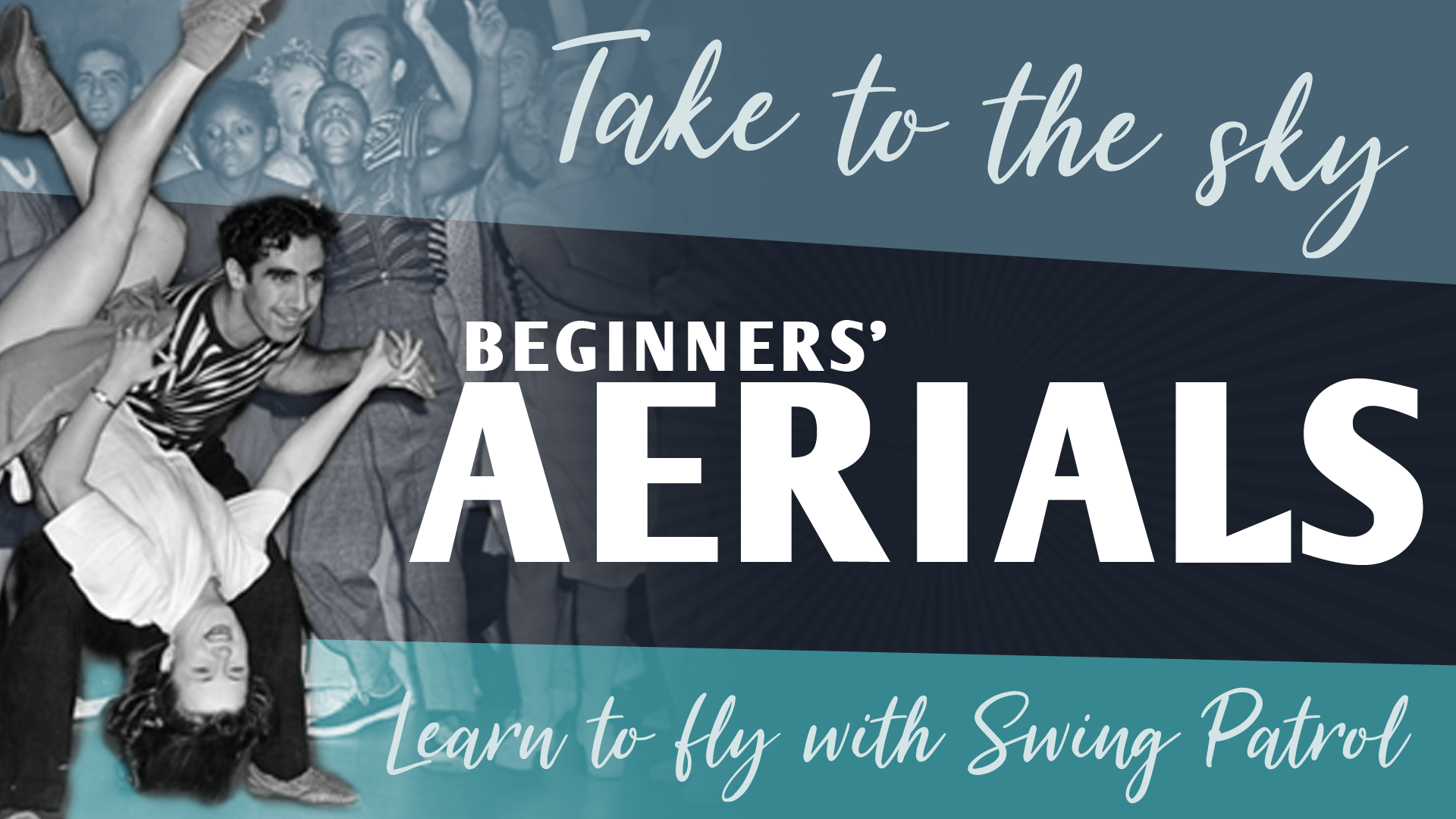 Beginner Aerials workshop – August 2018
Take to the sky!
Aerials are a truly iconic part of Swing Dancing – swing legend Frankie Manning's eyes would light up when talking about air steps.
In this beginners aerial workshop we'll teach you all the basics of flying. Once you have mastered this workshop, the sky's the limit! Get ready for a short but intensive crash course on swing aerials! Come and work hard, get sweaty, enjoy the adrenaline and finish the day with a great sense of achievement.
Done a Beginner Aerials workshop already this year? This workshop will feature some different aerials, so feel free to sign up for a new flying journey.
WHEN & WHERE
Date: Sunday 12 August 2018
Venue: Forever Dance (Studio 2) – 432 Church St Richmond VIC 3121
SCHEDULE AND CONTENT
1.00pm: check in
1.10pm – 4.15pm: You'll warm up, learn good aerials technique and a few fun aerial moves. There will be short rest/drink breaks throughout.
COSTS AND REGISTERING
Online pre-booking only
$120 per pair when pre-booking online via Trybooking. The only registration option is a Pair Pass, access for one base and one flyer (or one lead and one follow) for the full workshop.
Registrations close 12pm Friday 10 August. Attendees must register online prior to the closing date, there will be no door sales for this workshop.
Book now
FAQS AND OTHER INFORMATION I NEED TO KNOW
* This workshop is suitable for beginner swing dancers, with some knowledge of the fundamentals of swing dancing (you should know how to do an 8-beat swing out), or for any swing dancers ready to learn basic aerials technique or further their knowledge with more practice.
* You MUST attend with a partner, we will NOT rotate partners throughout the workshop. There are no single person tickets available. Prices are per pair only.
* Attendees must pre-register as a Pair online prior to the closing date (Fri 10 Aug). Only registered attendees will be admitted, no door sales on the day for this workshop.
* What do I wear?
Shoes comfortable for dancing (flat shoes – supportive sneakers are best.)
Comfortable clothing that you can really move about in. It's best for leads and follows to wear tops with sleeves (to avoid skin on skin friction where possible).
Jeans, singlets and clothing with buckles or items that can catch are not advised. Pants are generally preferable for the flyers as you will be going upside-down!
* What do I bring on the day?
Water bottle, snacks, mints, deodorant, spare t-shirt, small towel, band aids – swing dancing is exercise, and you may well break a sweat, so be prepared.
And bring a smile and lots of energy!
* Cancellations and Refunds:
Some of our venues have a fixed capacity so we close off places for participants at a set point. For this reason, cancellations and refunds are not possible without 24 hours notice as we may have turned away other dancers. Thanks for understanding.
Where applicable, a full or partial refund (less administration fee) may be available up to close of registrations. Contact info@swingpatrol.com.au
After close of registration, no refunds will be issued.
We are pretty friendly and approachable so send an email and hopefully we can assist you!
* Any other questions?
Any questions, email info@swingpatrol.com.au
YOUR TEACHERS
Sarah Wheaton
Sarah has been swing dancing for many years, performing and competing with great success in Australian and international events. In 2003 she won the famous, frenzied Hellzapoppin' Prize, with Anthony Wheaton. Through fast dancing, Aerials and Charleston, Sarah is well known for her ability to 'fly' at faster tempos. Teaching since 2001, she has conducted many aerials workshops locally and overseas, and is recognised as one of Australia's best Lindy Hoppers.
You'll love being in class with Sarah – she has a special ability to be able to break things down as well as being super fun and friendly.

(
photo credit: Tomaso Vimercati
)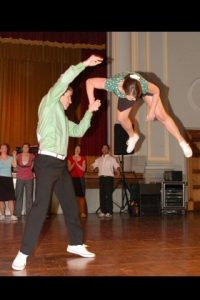 (
photo credit: Peter Petkovic
)

Daniel Dobber
Daniel has a background in adventure sports and is a teacher by profession, so he's well-placed to be an aerials instructor. He's been training and performing with Swing Patrol's Harlem Shout troupe for several years, where he is an accomplished base and occasional flyer. He also taught at Swing Patrol's Newport and Coburg venues, and loves to share his passion for swing dancing and swing aerials with newcomers.

(
photo credit: Cuskelly Photography
)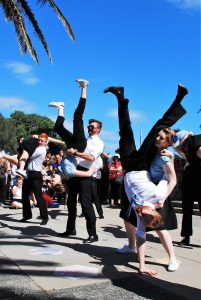 (
photo credit: Janice Campbell
)