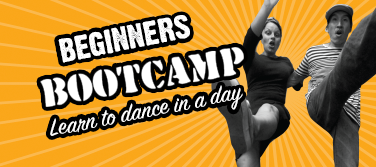 Beginners Boot Camp
Learn the foundations of swing dance in one day!
We teach you the basics in three 90 minute sessions. No experience required.
This workshop is ideal for those who want to start dancing and don't know where to begin. A great taster session before you commence regular swing dancing classes.
LOCATION:
Forever Dance (studio 2)
Level 1, 432 Church St. Richmond 3121
SCHEDULE
Session 1: 10.30 – 12.00pm
Introduction to EIGHT BEAT Lindy Hop
30min break
Session 2: 12.30 – 2.00pm
Introduction to SIX BEAT Lindy Hop
30min break
Session 3: 2.30 – 4.00pm
Introduction to Lindy Hop CHARLESTON
DATES
Boot Camp 2017 – 1st Sunday of every SECOND month.
final date for the year:
3 December
Bookings now open for all 2017 dates!
Book now
Online registrations close at 5pm on the Thursday before each workshop, but casual attendees are welcome, pay cash on the day, unless places are sold out.
Join the Facebook events for upcoming dates:
Sunday 3rd December | Facebook
Fine print
It's all in the name – this is Boot Camp for Beginners. It's an intensive one day course teaching the three different dance rhythms that make up our main swing dance, Lindy Hop. You will sweat, you will be exhausted and exhilarated, mind and body. If you'd like to take it a little easier, try booking for one or two sessions only, then book for the remainder at a later date. Please note that no refunds, credits or IOUs will be issued if, on the day, you don't attend all sessions for which you have registered.

What to bring
Comfortable shoes (most swing dancers don't wear heels), water bottle, lunch, mints, deodorant, spare t-shirt, small towel, band aids – swing dancing is exercise, and you may well break a sweat, so be prepared.
No partner required. Swing dancing is a lead & follow partnered dance, so you will need to register as a Lead or a Follow. If you're registering for you and a friend, make sure you register Leads and Follows separately – please don't book 2 Follow tickets for a Follow and a Lead. Or you can buy a Pair Pass in one single transaction (all three lessons for a Lead and a Follow.) However, you don't have to register with a partner. We rotate partners throughout the sessions – a great way to meet new people, all sharing the same fun learning experience.