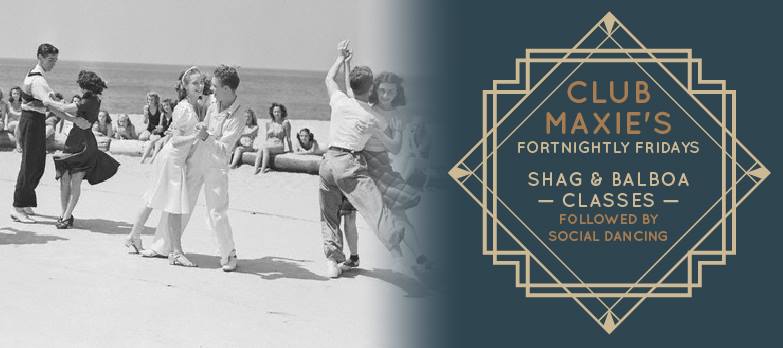 Club Maxie's
NO Classes or social dancing on Good Friday 19 April.Club Maxie's will return on Friday 3 May.
Club Maxie's is a fortnightly social swing dancing event for all. There's a focus on Balboa and Collegiate Shag. The music is ideal for those who want some pep in their swing step, with the occasional drop in tempo to get your Slow Dance on.
Join Club Maxie's on Facebook.
What is Balboa?
Find out more
What is Collegiate Shag?
Find out more
FAQs
What will the music be like?

The music will be general swing with a Balboa and Shag edge. Basie, Goodman, Shaw and some current bands like Campus Five, Tuba Skinny, Michael McQuaid's Red Hot Rhythm Makers to name a few.

Will the music be fast?

No. Balboa and Shag, like Lindy Hop (or any dance) can be fast, slow and everything in-between. There will be a wide range of speeds.

Can we dance Lindy?

Sure! We're not the dance Police; there are no restrictions on what you dance. Just come and dance!

Do we need to pre-book?

No.