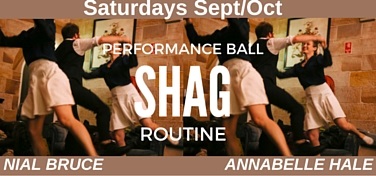 Collegiate Shag routine classes
Here's your chance to showcase Collegiate Shag at this year's Swing Patrol Performance Ball.
Learn a fun routine to work on your Shag dancing and strut your stuff at the Ball.
It's been well over a decade since the last dedicated Shag routine at an SP Performance Ball, and the time is definitely ripe!
Not keen to perform? That's fine – you're welcome to learn the routine even if you don't think you want to perform on the night – it's a great opportunity to practice and expand your Shag repertoire.
SCHEDULE
12.45pm – 2.15pm (doors open 12.30 for check in/warm up)
Saturdays
10 Sep 2016
17 Sep 2016
1 Oct 2016
8 Oct 2016
15 Oct 2016
(note: NO class on 24 Sep – you'll want to head to the Swing Out Your Shag workshop with international instructors Peter Flahiff & Lauren Stanley)
Venue: Dance Factory (studio 4), 4-10 Yorkshire St. Richmond VIC 3121
ABOUT THE ROUTINE
The routine will be taught on 5 Saturday afternoons in the weeks leading up to the Swing Patrol Performance Ball.
We'll spend a few weeks learning the choreography, then 2 weeks polishing and finessing formations, styling, flow, character etc. and memorising & drilling.
The routine is choreographed and taught by Annabelle Hale & Nial Bruce, well known as two of Australia's foremost Shag teachers (All the Cats Join In) and performers (Shag Pile.)
Aimed at intermediate level Collegiate Shag dancers, the routine will be fun to learn and dance, dynamic and entertaining.
We won't be teaching the basics, so experienced Shaggers can take up the challenge to perform and showcase the dance to the whole swing community at the Performance Ball on Saturday 22 October.
COSTS and REGISTERING
$120 per person for the 5-week series.
This is a workshop series to prepare a routine for the Performance Ball, not casual classes, so pre-registering is essential.
Bookings now open!
Book now
Registrations will close Friday 9th September at 5pm.
JUST ANNOUNCED: For those keen to do this routine but unable to attend all sessions, we are offering a per session payment option.
$29 per session, cash only, paid at the door on the day.
Please bring correct money – door person will not carry change.
Casual attendees will need to provide name and email address to be invited to the private Facebook group where recap videos will be posted. You'll need these videos to catch up on the choreography you miss.
FAQs and Other Information I Need to Know
* These classes are suitable for intermediate level Collegiate Shag dancers. You'll need to be comfortable dancing the basics and ready for what's next.
* You do not need to bring a partner to attend the classes. We'll rotate partners through the learning phase, and make sure everyone has someone to perform with on the Big Night.
* Registration is for the full 5-week series only.
* Swing Patrol Performance Ball (Sat 22 October) at Collingwood Town Hall – tickets are required by all attendees, including performers.
Tickets on sale now via the Swing Patrol website, or available for cash payments at the door on the night of the Ball.
* Any other questions?
Any questions, email info@swingpatrol.com.au
YOUR TEACHERS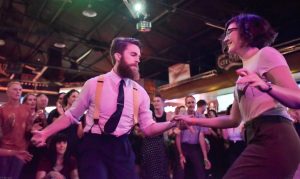 (photo credit: Fudz Qazi)
Annabelle Hale and Nial Bruce have been dancing Shag since they started learning swing dancing. After their first lessons, their dance hobby has become a dance obsession that has lead them to compete in the Australian Jitterbug Championships, Australian Shag Camp and the finals of the Camp Hollywood Shag competition. They've learnt from some of the greatest Shag dancers the world has to offer and have taught Collegiate Shag in Melbourne, and interstate. They're passionate about growing the Shag scene in Melbourne, and sharing their knowledge of this fun dance.
Watch Annabelle & Nial's own Shag routine for AJC 2016 Showcase division: