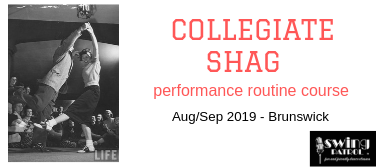 Collegiate Shag routine course 2019
Here's your chance to showcase Collegiate Shag at this year's Swing Patrol Performance Ball on Saturday 21 September.
Learn a fun routine to work on your Shag dancing and strut your stuff at the Ball.
Collegiate Shag performances have been highlights at swing dance events in recent years – come and be part of it!
Not keen to perform? That's fine – you're welcome to learn the routine even if you don't think you want to perform on the night – it's a great opportunity to practice and expand your Shag repertoire.
Check out the Shag routine at last year's Performance Ball:
SCHEDULE
1.00pm door open for check in/warm up
1.15pm – 3.00pm dancing!
Sundays
25 August 2019
1 September 2019
8 September 2019
15 September 2019 (extended session 1.00 – 3.30pm)
Venue: Next Level [downstairs Studio 1] – 325 Victoria St, Brunswick VIC 3056
ABOUT THE ROUTINE
The routine will be taught on 4 Sunday afternoons in the weeks leading up to the Swing Patrol Performance Ball.
We'll start by learning the choreography, then spend a couple of weeks polishing and finessing formations, styling, flow, character etc. and memorising & drilling.
The routine is choreographed and taught by Annabelle Hale, Caitlin Bennett, Nial Bruce and Vivian Cantera.
It will be fun to learn and dance, dynamic and entertaining.
The routine is targeted at intermediate Collegiate Shag dancers, and dancers who have experience performing and learning choreography and have some Shag under their belt.
COSTS and REGISTERING
ONLINE PRE-BOOKINGS
$120 per person for the 4-week series.
This is a workshop series to prepare a routine for the Performance Ball, not casual classes, so pre-registering is recommended.
Bookings now open!
Book now
Registrations will close Saturday 24 August at 5pm.
CASH AT THE DOOR
For those keen to do this routine but unable to attend all sessions, we are offering a per session payment option.
$35 per session, cash only, paid at the door on the day.
Please bring correct money – door person will not carry change.
Casual attendees will need to provide name and email address to be invited to the private Facebook group where recap videos will be posted. You'll need these videos to catch up on the choreography you miss.
FOLLOW places are CLOSED for this course.Sorry, no spots for Follows to pay cash at door.
FAQs and Other Information I Need to Know
* These classes are suitable for intermediate level Collegiate Shag dancers, or those with experience learning choreography and familiar with Shag fundamentals. You'll need to be comfortable dancing the basics and ready for what's next.
* You do not need to bring a partner to attend the classes. We'll rotate partners through the learning phase, and make sure everyone has someone to perform with on the Big Night.
* Registration is for the full 4-week series only.
* Swing Patrol Performance Ball (Sat 21 September) at Collingwood Town Hall – tickets are required by all attendees, including performers.
Tickets on sale soon via the Swing Patrol website, or available for cash payments at the door on the night of the Ball.
* Any other questions?
Any questions, email info@swingpatrol.com.au
YOUR TEACHERS
Annabelle Hale, Caitlin Bennett, Nial Bruce and Vivian Cantera are at the forefront of the Australian Collegiate Shag scene. They have traveled extensively to study the dance and taught locally and internationally. Individually and collectively they have won pretty much every Shag prize in the country and had competition success overseas. As members of the performance troupe Double Rhythm Riot, they have shared the joy of Shag throughout the swing community with memorable, award-winning routines.
Watch Double Rhythm Riot perform in AJC 2018 Teams division: