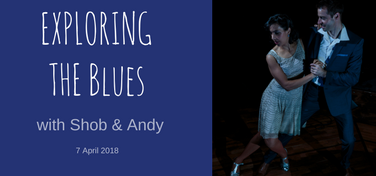 Exploring The Blues
Shob & Andy, two of Australia's most acclaimed Blues dance instructors,
bring us more very special Blues learning . Ideal for those with some Blues experience, looking to take the next step in their Blues journey, and wanting to focus on specialised elements of this glorious genre of dance – Drag Blues and the oft-requested Blues Waltz.
DETAILS AT A GLANCE
When: Saturday 7 April 2018, 11.00am – 4.30pm
Where: Forever Dance (Studio 2) Level 1/432 Church St. Richmond VIC 3121
What: Blues dance workshop featuring two popular but not-often-taught styles, for Intermediate and Advanced Blues dancers.
SCHEDULE AND CONTENT
Drag Blues:
10.45am: Check in
11.00am – 12.00pm Drag Blues fundamentals
15 min break
12.15pm – 1.15pm Drag Blues moves and shapes
45 min break/lunch
Blues Waltz:
1.50pm: Check in for Blues Waltz-only
2.00pm – 3.00pm class 1
15 min break
3.15 – 4.15pm class 2
4.15 – 4.30 Recap and filming
COSTS AND REGISTERING
$60 per person for the full day (both Drag Blues and Blues Waltz sessions)
$120 Pair Pass (1 Lead & 1 Follow – full day)
$35 per person for a single session (either Drag Blues or Blues Waltz)
*Note: There are limited single-session-only tickets. Book early to avoid disappointment.
Attendance is by online registration only. Pre-book online via Trybooking.
Note that TryBooking is not an app, and may not work well on smart phones or other devices — top tip is to register on a computer.
Registrations will close at 12pm on the Friday 6 April 2018.
Book now
Follow places have been paused to allow Leads to catch up and keep the ratio balanced. Follows – check back soon as we will open Follow registrations again if the numbers even out.
If you're registering for you and a friend, make sure you register Leads and Follows separately – please don't book 2 Follow tickets for a Follow and a Lead. Or you can buy a Pair Pass in one single transaction (for 1 Lead and 1 Follow.)
FAQS AND OTHER INFORMATION I NEED TO KNOW
* This workshop is aimed at Blues dancers of an intermediate or advanced level, and those who are very comfortable with the basics and dancing in closed connection.
While this workshop will teach specialised styles, there will be a level of assumed knowledge of Blues dancing (eg. the fundamentals such as pulse, weight collection and delay, dancing in closed connection.)
* We will be teaching lead & follow partnered blues dancing, so you will need to elect to dance as a Lead or a Follow. You don't need to register with a partner or bring one with you. We frequently change partners throughout the sessions – a great way to meet new people, all sharing the same fun learning experience.
* What do I wear?
Shoes comfortable for dancing (flat shoes might be preferable if you're not accustomed to dancing in heels.)
Comfortable clothing that you can really move about in.
* What do I bring on the day?
Water, small towel, deodorant, mints, snacks, lunch, and loads of energy!
* Cancellations and Refunds
Some of our venues have a fixed capacity so we close off places for participants at a set point. For this reason, cancellations and refunds are not possible without 24 hours notice as we may have turned away other dancers. Thanks for understanding.
Where applicable, a full or partial refund (less administration fee) may be available up to close of registrations. Contact info@swingpatrol.com.au
After close of registration, no refunds will be issued.
We are pretty friendly and approachable so send an email and hopefully we can assist you!

* Any other questions?
Any questions, email info@swingpatrol.com.au
YOUR TEACHERS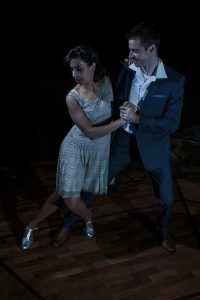 (original image of Shob & Andy by Cuskelly Photography)
Shob and Andy fell in love with blues from their early days of swing dancing and are still so passionate about exploring and sharing this art form. They are two of Australia's most sought after blues instructors, having taught extensively around Australia and New Zealand, and together have won multiple titles in blues and slow swing.
They are both students and teachers of this beautiful dance and always seeking to express a more authentic connection with each other and the music, as well as heartfelt communication with their students.
Their classes are based on over 20 years combined teaching experience and focus on grounded and balanced body movement, clarity of partner connection, individual expression and above all joy!
"It was such a pleasure to have Shob and Andy come to teach blues to the swing and blues community of Adelaide.
I saw students of all dance styles fall in love with blues dancing. Shob and Andy's blissful blues waltz class put joyful smiles on everyone's faces."
(the team at Breakout Blues)
Watch Shob and Andy performing a beautiful Blues dance.