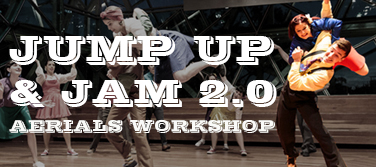 Jump Up and Jam 2.0! – Intermediate Aerials Workshop
Your favourite high flying duo is back with another big day full of jumping, jamming, flipping and flying! This workshop is aimed at intermediate/advanced dancers that (ideally) have a little bit of aerials experience, and are looking to take it to the next level. Join Kim McLaren and Loz Yee (from Echoes of Harlem) for an aerials workshop designed to get you jumping into a jam with confidence and style. You'll learn the skills, the aerials, and jam choreography so make sure you don't miss out on this limited chance to come fly with us!
SCHEDULE and CONTENT
10.00am: Arrival & Check-in
10.15am – 10.45am: Warm Up & Skills Training
Session 1: 10.45am – 12.45pm
Aerial 1 – Hellzapoppin' Over the Back
Choreography
Aerial 2 – The Swedish Meat Ball
Jam time!
12.45pm – 1.45pm Lunch break
Session 2: 1.45pm – 3.45pm
Aerial 3 – The Lindy Flip
Choreography
Aerial 4 – Leads Lay Back Flip
Jam time!
3.45pm – 4.00pm Warm Down

COSTS and REGISTERING
** Please note: You MUST attend this workshop with a partner. **
Option A: pre-bookings
$180 per couple when pre-booking online via Trybooking. The only registration option is a Pair Pass, access for one lead and one follow (or one base and one flyer) for the full day.
Note that TryBooking is not an app, and may not work well on smart phones or other devices — top tip is to register on a computer.
Registrations will close Thursday 6th April at 5pm.
Bookings now open!
Book now
Option B: casual attendance
$200 per couple for casual attendance paid in cash on the day – no need to register.
** NOTE: Places are strictly limited and the previous Jump Up & Jam sold out
– online booking is the only way to secure your place.
Casual attendees will only be admitted if the workshop is not fully booked.**
SOLD OUT!
This workshop is fully booked. No casual places available.
Watch the Swing Patrol Facebook page and eNewsletter for new workshop announcements.
FAQs and Other Information I Need to Know
* This workshop is suitable for intermediate-advanced swing dancers ready for a high-flying challenge. Ideally, participants will have some aerials experience.
* You MUST attend with a partner, we will NOT rotate partners throughout the workshop.
* Both partners can pre-register online for the discount price (Pair Pass) OR
both partners can pay cash on the day. There are no single person tickets available online or at the door. Prices are per couple only. You MUST attend this workshop with a partner.
* Full day passes only – it is important to attend the morning "Warm Up & Skills Training" session to ensure you have the foundation skills to safely and confidently undertake the aerials being taught. Sorry, no "Afternoon Only" option.
* What do I wear?
Shoes comfortable for dancing (flat shoes – supportive sneakers are best.)
Comfortable clothing that you can really move about in. It's best for leads and follows to wear tops with sleeves (to avoid skin on skin friction where possible).
Jeans, singlets and clothing with buckles or items that can catch are not advised. Pants are generally preferable for the flyers as you will be going upside-down!
* What do I bring on the day?
Water, small towel, deodorant, mints, snacks, lunch, and loads of energy!
* Any other questions?
Any questions, email info@swingpatrol.com.au
YOUR TEACHERS
Loz Yee began dancing as a kid and spent hours watching Janet Jackson and J-Lo music videos on repeat just to learn the dance routines. She discovered lindy hop and authentic jazz dance in 2003 as a university student and hasn't looked back!
Loz is known for her energy, playfulness and creativity on the social dance floor, her footwork rhythm and clarity, and sense of fun and silliness. She loves sharing the dance, and has taught lindy hop and solo jazz since 2005. She's guided three performance troupes and conducted workshops all over the world, including a number of aerials workshops which is flippin' good fun. She is a proud and passionate member of the performance group Echoes of Harlem in Melbourne, where she loves being inspired and challenged by some of her very best friends.
Kim McLaren started Swing dancing in 2004, and was quickly captivated by the energy and playful style of dancing. In 2006 he joined the developmental performance troupe, 'Bratpack', and was performing regularly at community events, festivals and on TV. In 2007 he became a regular teacher with Swing Patrol and over the subsequent years anchored venues at Northcote, Ringwood and Camberwell. Kim has had success in numerous Swing dancing competitions, and notably won the Australian Jitterbug Championships "Fast and Furious" event with Emily in 2009. Kim is currently a member of Australia's premier performance troupe, Echoes of Harlem. He particularly loves fast dancing, Charleston, and high flying aerials. Although now retired from regular teaching, Kim remains passionate about sharing the dance, and loves working closely with new students.

Want to see these two jamming together?
Loz (blue top, red skirt) and Kim (cream shirt, brown pants) bust out at the 35 second mark in this spectacular performance by Australia's premier swing dance troupe, Echoes of Harlem.