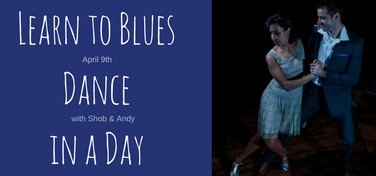 Learn to dance blues in a day
What is blues dancing?
Blues dancing was born from African-American movements and rhythms, expressing the blues music of the American south. It has a grounded, relaxed aesthetic that gives amazing freedom for creativity and improvisation.
Today, modern blues dancing encompasses a big family of dances danced to blues music and jazz, all celebrating the richness of partnership, and sometimes drawing on diverse influences such as tango and waltz
Blues dancing is an incredible feeling and the techniques you will learn about balance, posture and connection will do wonders for all other styles of swing dancing you choose to try.
Here's a quote we think sums it up well!

Blues is a music, a dance, a feeling. It can express pain, it can celebrate, it can tease and seduce, it can relieve burdens.
SCHEDULE AND CONTENT
Session 1: 10.30am – 12.00pm
Blues Fundamentals
Learn the basic principles of blues movement, how to be grounded, have pulse and take a clear and confident step. Understand how blues dancing unlocks the beauty and possibility in the space between the beats. This class will get you dancing early and feeling confident to move with your partner in both open and closed, to start creating shapes and express the music.
30 min break
Session 2: 12.30pm – 2.00pm
Loving The Blues
Now that we are moving, learn how to create some of our favourite blues shapings and how to make up your own! Intensify your partner connection by stretching out or speeding up familiar patterns. We will layer this class depending on everyone's experience and for those who are keen, add challenge with rhythm and footwork.
NOTE: to attend Session 2 you must have attended Session 1 or have previous blues dance experience.
30 min break
Session 3: 2.30pm – 4.00pm
Blues Waltz
This blissful style of blues dancing is done in 3/4 time and is one of our most requested classes. Sometimes subtle and intimate, sometimes dynamic and dramatic, it's a special kind of joy!
COSTS AND REGISTERING
Option A:
Pre-book online through Trybooking:
$25 per person per session
$60 per person for the full day
$120 Pair Pass (1 Lead & 1 Follow – full day)
Registrations will close Thursday 6th April at 5pm
(Note that TryBooking is not an app and won't work properly from a phone or other device. Best to get onto a computer to register.)
Bookings now open!
Book now
Please note: Workshop is FULLY BOOKED. No places available for casual attendees.
Option B:
Casual attendance (cash on the day):
$30 per person per session
$70 per person for the full day
Places for casual attendees only available if workshop is not fully booked.
Online registration is the best way to secure your place.
FAQS AND OTHER INFORMATION I NEED TO KNOW
* This workshop is aimed at total dance beginners, and swing dancers with little or no blues dance experience, or dancers who would like to refine the fundamentals or learn their non-dominant role.
Note that pre-requisite for Session 2 "Loving The Blues" is Session 1 or some blues dance experience.
* We will be teaching lead & follow partnered blues dancing, so you will need to elect to dance as a Lead or a Follow. You don't need to register with a partner or bring one with you. We rotate partners throughout the sessions – a great way to meet new people, all sharing the same fun learning experience.
* What do I wear?
Shoes comfortable for dancing (flat shoes might be preferable if you're not accustomed to dancing in heels.)
Comfortable clothing that you can really move about in.
* What do I bring on the day?
Water, small towel, deodorant, mints, snacks, lunch, and loads of energy!
* Any other questions?
Any questions, email info@swingpatrol.com.au
YOUR TEACHERS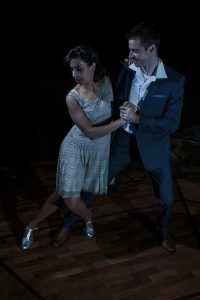 (original image of Shob & Andy by Cuskelly Photography)
Shob and Andy fell in love with blues from their early days of swing dancing and are still so passionate about exploring and sharing this art form. They are two of Australia's most sought after blues instructors, having taught extensively around Australia and New Zealand, and together have won multiple titles in blues and slow swing.
They are both students and teachers of this beautiful dance and always seeking to express a more authentic connection with each other and the music, as well as heartfelt communication with their students.
Their classes are based on over 20 years combined teaching experience and focus on grounded and balanced body movement, clarity of partner connection, individual expression and above all joy!
Click here to watch Shob and Andy performing a beautiful Blues dance.