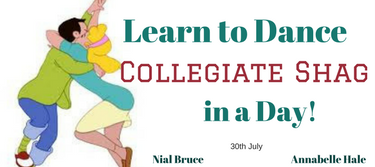 Learn To Dance Collegiate Shag In A Day
Seen Shag out on the social floor and don't know where to start?
Not sure what Shag is but curious to find out?
Want to dance comfortably to upbeat tempos?
If you answered yes to any of these then come Learn to Dance Collegiate Shag in a Day!
Sample just a little of the fun of Shag, or immerse yourself in a full-day crash course.
What is Collegiate Shag?
Find out more

SCHEDULE AND CONTENT
Session 1: 10.30am – 12.00pm
Shag Fundamentals
This class covers the basic footwork of Collegiate Shag, with some turns for both leads and follows.
Total beginners welcome, and those new to Shag.
30 min break
Session 2: 12.30pm – 2.00pm
Side by Side, and out in Open
Exploring all the different shapes in Collegiate Shag, and fun transitions between them.
NOTE: to attend Session 2 you must have attended Session 1 or have previous Collegiate Shag experience.
30 min break
Session 3: 2.30pm – 4.00pm
Moves!
Some great moves and techniques to build your Shag. Fun moves blended with everything else to really mix it up.
NOTE: to attend Session 3 you must have attended Session 1 & 2 or have previous Collegiate Shag experience.
COSTS AND REGISTERING
Option A:
Pre-book online through Trybooking:
$25 per person per session
$60 per person for the full day
$120 Pair Pass (1 Lead & 1 Follow – full day)
Registrations will close Thursday 27th July at 5pm
(Note that TryBooking is not an app and won't work properly from a phone or other device. Best to get onto a computer to register.)
Bookings now open!
Book now

Follow places are sold out for this workshop. Pair Passes and places for Leads are still available.*
Option B:
Casual attendance (cash on the day):
$30 per person per session
$70 per person for the full day
Places for casual attendees only available if workshop is not fully booked.
Online registration is the best way to secure your place.
FAQS AND OTHER INFORMATION I NEED TO KNOW
* This workshop is aimed at total beginner dancers, and swing dancers with little or no Collegiate Shag experience, or dancers who would like to refine the fundamentals or learn their non-dominant role.
Note that the prerequisite for Session 2 & 3 is Session 1 or some Collegiate Shag experience (including an understanding of the basic rhythm and footwork, and lead & follow principles.)
* We will be teaching lead & follow partnered Collegiate Shag dancing, so you will need to elect to dance as a Lead or a Follow. You don't need to register with a partner or bring one with you. We rotate partners throughout the sessions – a great way to meet new people, all sharing the same fun learning experience.
* What do I wear?
Shoes comfortable for dancing (flat shoes might be preferable if you're not accustomed to dancing in heels.)
Comfortable clothing that you can really move about in.
* What do I bring on the day?
Water, small towel, deodorant, mints, snacks, lunch, and loads of energy!
* Refund Policy:
Please select your ticket purchase carefully.
Where applicable, a refund of 50% of ticket price may be issued up to close of registration.
After close of registration, no refunds will be issued.
* Any other questions?
Any questions, email info@swingpatrol.com.au
YOUR TEACHERS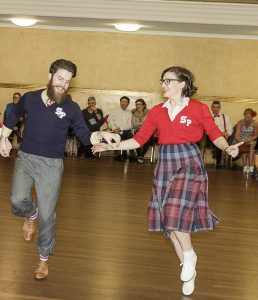 Annabelle Hale and Nial Bruce have been working on reviving Shag in Australia for a number of years. They have competed in and won Shag competitions at home and in the US, and have been invited to teach at local and international dance camps and workshops. They can't wait to share their passion for this dance with you!
Watch Annabelle & Nial's Collegiate Shag performance at 2016 Australian Jitterbug Championships