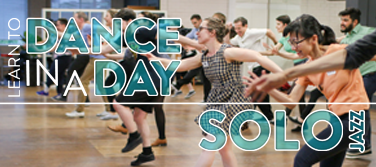 Learn To Dance In A Day – Solo Jazz
A workshop of solo jazz and charleston for all!
Come along for a day of tremendous fun and movement set to dazzlingly joyful music.
 Explore vintage solo dance of the swing era
 Build skills and confidence in rocking out rhythms on your own and with a partner
 No experience necessary
Start from scratch and spend a day with Miya, who'll get you stomping, shimmying, jazzing and jamming with glee. You'll be dancing happily ever after!
WHEN & WHERE
Date: Sunday 19 May 2019
Venue: Next Level Studios (Upstairs studio)
325 Victoria St, Brunswick VIC 3056
SCHEDULE AND CONTENT
1.15pm: Check in
1.30 – 5.00pm: learn some fun solo Charleston moves and technique for expressing yourself to jazz music. (3hrs dancing plus rest/drink breaks)

COST AND REGISTERING
$40 per person
Attendance is by online registration only, via Trybooking.
Please note that Trybooking is not an app, and may not work well on mobile devices. For optimum results, register on a computer.
Registrations will close at 5pm on Friday 17 May, or when sold out.
SOLD OUT! This workshop is fully booked – online registrations are closed,NO places available for casual attendees on the day.Want more Solo Jazz learning? There's a Solo Jazz course at Swing Patrol Fitzroy on Wednesday nights commencing 15 May. Book now.
WHAT TO EXPECT
Our Dance in a Day workshop will teach you some introductory moves and technique that will allow you to build your confidence and improve your dance skills.
What is solo jazz? Check out these inspiring clips:
Spirit Moves
Jazz Roots, Paris
Montreal Swing Riot
WHAT TO BRING
Comfortable shoes (most swing dancers don't wear heels), water bottle, snacks, mints, deodorant, spare t-shirt, small towel, band aids – swing dancing is exercise, and you may well break a sweat, so be prepared.

No partner required
This is solo dancing, so we won't be dancing with partners – but we'll all be sharing the same fun learning experience, so you'll meet some new people and learn some new moves.
Your Teacher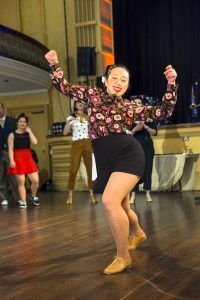 (Photo credit: Cuskelly Photography)
Miyako Miyazaki
A stunning dancer with a wealth of experience, who has already made an indelible mark on the local swing scene in her short time in Australia, Miya will excite you about solo movement and in turn inspire your partner dancing.

Cancellations and Refunds
Some of our venues have a fixed capacity so we close off places for participants at a set point. For this reason, cancellations and refunds are not possible without 24 hours notice as we may have turned away other dancers. Thanks for understanding.
Where applicable, a full or partial refund (less administration fee) may be available up to close of registrations. Contact info@swingpatrol.com.au
After close of registration, no refunds will be issued.
We are pretty friendly and approachable so send an email and hopefully we can assist you!

Learn To Dance In A Day is a great first step on your Jazz dance journey.
After the workshop we'll add you to our newsletter so you can get a sense of what we offer and where to take your next steps as a dancer.
See also
Learn To Dance In A Day – Lindy Hop
Learn To Dance In A Day – Collegiate Shag