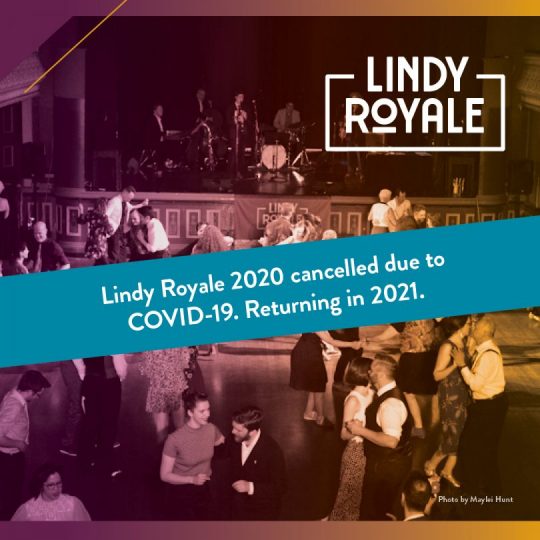 Lindy Royale
Sadly, we have made the decision to cancel Lindy Royale for 2020 due to COVID-19. Even though the current restrictions may have changed by August, it is impossible to predict when large scale social gatherings will be deemed safe. We look forward to a spectacular return in 2021.We have a few ideas up our sleeve for smaller comps and performance opportunities once we can dance again. Keep dancing in your lounge room – we want to see what you've created!
The hottest new swing competition in Australia returns – Lindy Royale!
The inaugural event in 2019 was just so good, we're excited to do it again.
A weekend party full of cracking comps, juicy social dancing, and all the love of our incredible swing community.
Friday 21st – Sunday 23rd August 2020, in Melbourne, Australia
Featuring:
– Competition categories across all your favourite swing dance styles.
– The headline event, the Lindy Royale – a high flying, fast paced battle right down to the last couple standing!
– A Teams and Showcase event.
– Three nights of social dancing.
– Choc full of that supportive community atmosphere we love.
Whether you're new to swing dancing or a seasoned veteran, a competitor or a social dancer, this weekend is for everyone.
Venues:
Friday 21st – Melbourne Latin Dance Studio, 281-283 Swan Street, Richmond VIC 3121
Sat 22nd & Sun 23rd – The Space, 318 Chapel St, Prahran VIC 3181 (enter Carlton St)
Go to the official Lindy Royale website
Follow the Lindy Royale 2020 Facebook event for all the latest updates.

(Photo credit: Maylei Hunt)