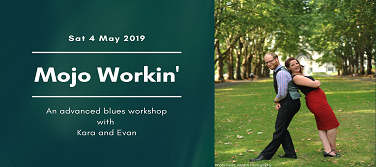 Mojo Workin' – An advanced blues workshop with Kara and Evan
Looking for that next challenge in your blues dancing? Join Kara and Evan and take a journey through the African American roots of the dance we know and love today. These focused sessions are aimed at teachers and social dancers that find they are eclipsing regular classes. Kara and Evan aim to stretch every attendee with challenging content, that respects the historic roots of these dances.
WHEN & WHERE
Saturday 4 May 2019, 1.10pm – 5.00pm
Ashtanga Yoga Centre: 110-112 Argyle St. Fitzroy VIC 3065
SCHEDULE AND CONTENT
1.10pm: Check in – there's lots to get through, so please be on time so we can be ready to dance at 1.15pm,
1.15pm – 1.45pm Midnight Hour – Lessons from African American cultural values
Several strong themes run through dances that grew out of the African American community. We will seek to embody the concepts of call and response, improvisation, the individual, and blurring of the lines between the dance and non-dance space.
15 min break
2.00pm – 3.30pm Nocturne Blues – Juke Joint dances that stood the test of time
Blues music presents a broad genre and a diverse set of influences on the dances that we do. As popular music changed from the 1910s through the '50s and beyond, dances like the grind, funky butt, slow drag and struttin' responded. We will delve in to these historic dances to inform your choices on the social floor and develop our individual style.
15 min break
3.45pm – 4.55pm Jammin' the Blues
Let's wrap up the day with what it's all about. You, the music, your partner and the community of dancers around you. We'll push your new skills to breaking point! We even promise to put them back together again.
COSTS AND REGISTERING
$60 per person for the full day
$120 Pair Pass (1 Lead & 1 Follow – full day)
Attendance is by online registration only.
Registrations will close at 5pm on the Friday 3 May.
Book now
If you're registering for you and a friend, make sure you register Leads and Follows separately – please don't book 2 Follow tickets for a Follow and a Lead. Or you can buy a Pair Pass in one single transaction (for 1 Lead and 1 Follow.)
FAQS AND OTHER INFORMATION I NEED TO KNOW
This workshop is aimed at those with experience in lead & follow partnered blues dancing, who are very comfortable with social dancing blues with a variety of partners and to various tempos
A minimum of 1 year blues dancing experience recommended.
You will have attended numerous classes and workshops and are now and ready to explore in more depth, looking to expand beyond class content, whilst still crushing your fundamentals. We're pushing in new and challenging directions to take advantage of the incredible opportunities the music and your partner have to offer.
* Do I need a partner?
No partner required. We'll swap partners throughout the sessions.
* What do I bring on the day?
Water bottle, snacks/lunch, mints, deodorant, spare t-shirt, small towel, band aids. Swing dancing – yes even Blues dancing – is exercise, and you may well break a sweat, so be prepared.
And bring a smile and lots of energy!
* Cancellations and Refunds:
Some of our venues have a fixed capacity so we close off places for participants at a set point. For this reason, cancellations and refunds are not possible without 24 hours notice as we may have turned away other dancers. Thanks for understanding.
Where applicable, a full or partial refund (less administration fee) may be available up to close of registrations. Contact info@swingpatrol.com.au
After close of registration, no refunds will be issued.
We are pretty friendly and approachable so send an email and hopefully we can assist you!
* Any other questions?
Any questions, email info@swingpatrol.com.au
YOUR TEACHERS
Kara Martin and Evan Hughes
Kara and Evan first encountered each-other on the blues floor at a late night party at Church City Blues, Australia's first ever blues event. Since then, they have both made major contributions to the development and promotion of blues dance. Kara and Evan have taught blues together all over Aus and in NZ. They bring a mix of silliness plus brain-breaking concepts to each class so every student can dance up a storm.
Kara has danced in one form or another since she was a kid. In 2004 she found swing dancing, blues followed soon after, and she's never looked back. Kara has been an event organiser, manager, DJ, student, performer, choreographer, judge, competitor and dancer, but teaching is where she excels the most. Bringing fun and collaboration to both leading and following, she loves empowering dancers to find their own style and musical journey.
Evan, on the other hand, was a had-core, dedicated non-dancer. Once he finally made the transition to the dance life, nothing held him back. His passion for social dancing has seen him travel all over to learn, teach, and hang out all to advance his own dancing. He has won a bunch of things, taught in a bunch of cities in a bunch of countries, performed in a bunch of cool places, but in the end just digs social dancing a bunch.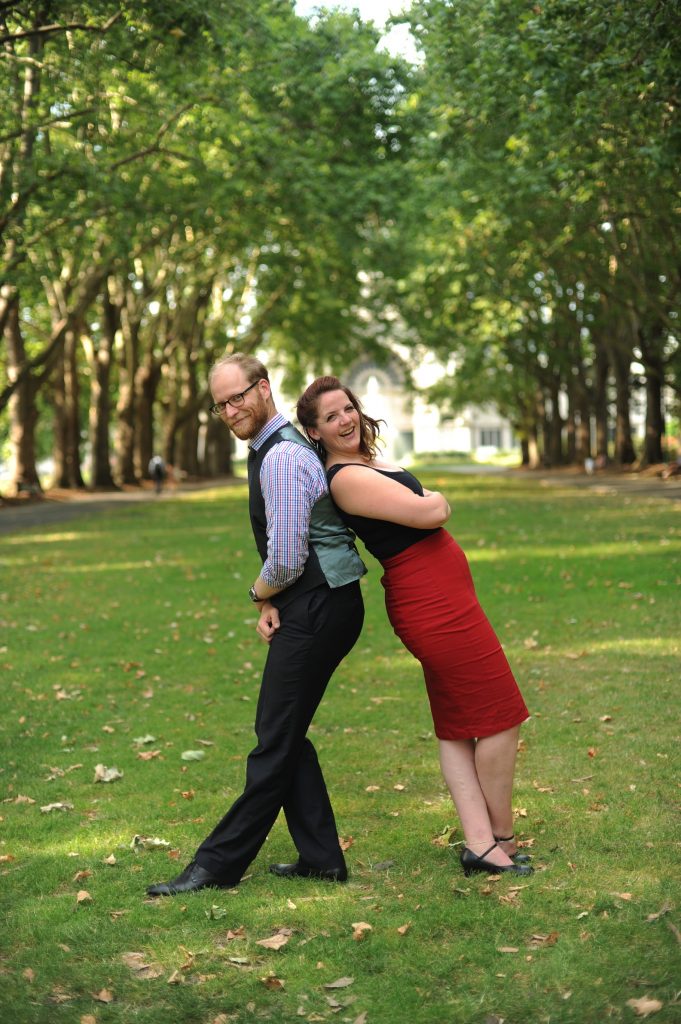 Photo credit: Alesich Photography
Looking for Blues dancing for beginners? Check out various dates for
Learn To Dance In A Day – Blues