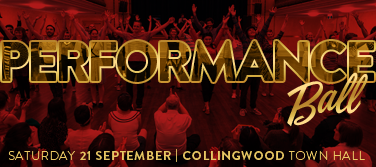 Performance Ball 2019
The Swing Patrol Performance Ball is an undeniable highlight of the annual swing calendar. Our students are the stars as dancers hit the floor for a night of fun, adrenalin, energy, applause, dressing up, showing off and sensational swing dancing and music. A chance for students to join with their friends performing routines they've been working on together for weeks, and for dancers and dance lovers to watch the show, enjoy the high-spirited energy and cheer the talent and courage of the choreographers and performers.
We return to Collingwood Town Hall – where there's enough room for everyone to come together to perform, to cheer, to dance up a storm.
For 20 years, Swing Patrol students and teachers have gathered for this exuberant expression of the joy of swing dancing. Be part of the tradition, the spectacle, the nerves, and see the greats and future greats in action.
Don't miss the show everyone will be talking about!

Event Details at a Glance
When: Saturday 21 September 2019
Where: Collingwood Town Hall, 140 Hoddle St. Abbotsford VIC 3067 (MAP)
Times:
7:00pm Doors open
7:30pm Beginners swing lesson (complimentary)
8:00pm Performances commence
8pm – 12am Performances and social dancing
Drinks & food: Bar on site, so no BYO drinks, but you can bring food.

Costs and Ticketing
Dancers Ticket
Online: $25
Cash at the door: $35
Includes entry to the Ball for all those performing and anyone coming to swing out on the fabulous Collingwood Town Hall dance floor.
Non-dancers/Spectators Ticket
Online: $15
Cash at the door: $20
A special ticket for our non-dancing friends – family, friends, colleagues, anyone who wants to come along and watch the show. No dance shoes required!
This ticket includes entry for the complimentary beginner lesson at 7.30pm.
Kids 5 – 15 years: $10
Kids under 5: free
Bookings now open!
Online ticket sales will close automatically at 5pm Thurs 19 Sep 2019
Online bookings have closed, but tickets will be available for cash at the door.As pre-bookings have been higher than expected, it is recommended that cash-payers come early in case we reach venue capacity.
Frequently Asked Questions!
I'm not a dancer – can I still come along?
Yes! It's a great night of entertainment. Come along and support all of our awesome dancers as they put on their best performance smiles! There is nothing like performing to those we love, so the more the merrier. A "Non-dancers/Spectators" ticket is just $15 online, $20 cash at the door. It's the perfect night for non-swing friends to be involved. There's even a short beginner lesson at 7.30pm, included in the ticket price, if you want a taste of this thing called swing!
I'm performing – do I need to purchase a ticket?
Yes, everyone needs a ticket to get in. If you're performing, you need a "Dancers" ticket.
I'm not performing – what ticket do I need?
If you're a dancer, but aren't performing, purchase a "Dancers" Ticket , so you can enjoy all the social dancing in-between performances. Out DJ will have hours of swinging dance tunes for your dancing pleasure.
If you're Not Dancing, Just Watching, purchase a "Non-dancers/Spectators" Ticket, so you can watch the performances (as many or as few as you choose), and even join in the beginner dance lesson at 7.30pm.
How do I book a ticket?
Click HERE to book online until 5pm Thu 19 Sep. After that, tickets will only be available for cash at the door, and only if not sold out.
Can I get a ticket at the door?
Yes, assuming tickets don't sell out in advance, but we advise you to pre-book to save money and make sure you don't miss out!
**Note that online ticket sales will close automatically at 5pm Thurs 19 Sep 2019**
Can I reserve a seat?
All tickets are General Admittance, not reserved seating. There will be some table seating in the hall, and in the upstairs viewing gallery, but it's first come … first seated.
Will there be any social dancing?
Yes, our fabulous DJ, Anna van Dijk, will be playing music for social dancing between each performance bracket, so bring your dance shoes and take advantage of the glorious dance floor at Collingwood Town Hall.
I'm anxious about performing on the night!
It's natural to be nervous – performance adrenalin can help give you extra energy and you'll be surprised how fast it goes by.
Be assured there is no audience like a swing dancing audience and you will be supported and cheered on as you take to the stage.
Of course you don't have to perform – but experience shows that even first timers want to get straight back out there and do it all again!
What do I need to wear?
What you wear on the night is totally up to you.
As a spectator, you might want to dapper-up a bit with a nice suit or a fancy frock. If you want to get into some vintage clobber, think 1930s or 1940s. But there's no dress code, so wear what makes you comfortable.
If you are performing, most venues will have a 'costume' planned. So make sure to listen to your teachers about what you should wear on the night. There are bathrooms in the venue for quick costume changes, but no "green room" for performers.
Shoes: Top Tip from seasoned performers – you never know what the floor surface will be like – come prepared and bring extra shoes if you're not sure!
Will there be lots of room to sit down?
There will be seating but it will be limited. There is no reserved seating and it's simply a case of first in… first seated!
Is there an after party?
No, so do all your social dancing between and after the performance brackets at Collingwood Town Hall.
Any other questions?
Any questions, email info@swingpatrol.com.au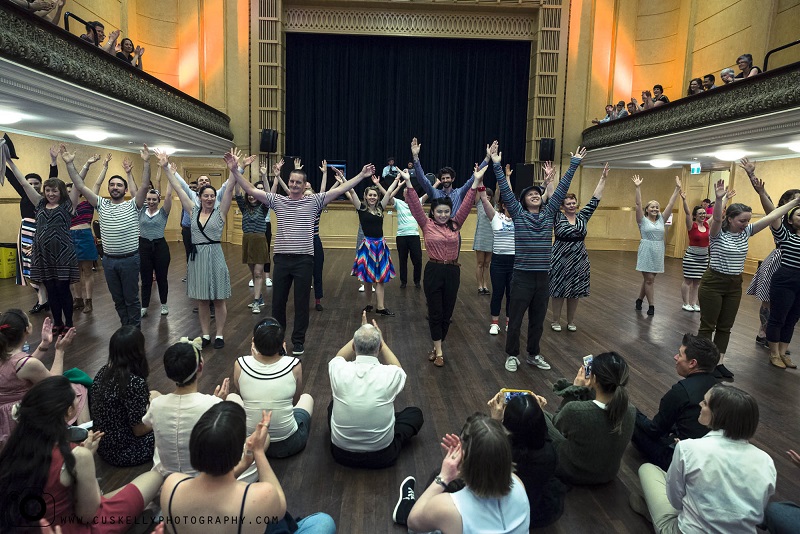 (Photo: Swing Patrol Brunswick at Performance Ball 2018 by Cuskelly Photography)