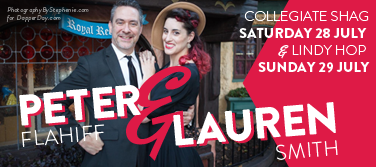 Peter Flahiff & Lauren Smith – A Piece of Los Angeles
Peter and Lauren are highly acclaimed international teachers from Los Angeles, and we are pleased to have them in Melbourne for two great days of learning. Their previous visits to Australia have made them firm favourites in our local swing communities.
DETAILS AT A GLANCE
When: Sat 28 July & Sun 29 July 2018
Where: Forever Dance – Level 1/432 Church St. Richmond VIC 3121
What: A day of Collegiate Shag and a day of high level Lindy Hop workshops, with top visiting international instructors.
SCHEDULE AND CONTENT
Saturday 28 July
Forever Dance – Studio 2
A day of Collegiate Shag to take you on a great journey of discovery. Peter and Lauren will assume some basic knowledge and work to lift your Shag to the next level.
The Shag workshop will be wrapped up with great snippets of history, solid technical teaching and a few laughs along the way. They teach a lovely style of Collegiate Shag which will have you gliding along the floor with ease, allowing you to enjoy your dancing all night long.
Schedule:
10.55am check in
11.00am – 12.30pm Collegiate Shag session 1
12.30 – 1.00pm lunch/break
1.00pm – 2.30pm Collegiate Shag session 2
2.30 – 2.40pm video recap
Sunday 29 July
Forever Dance – The Ballroom
The focus is high level Lindy Hop learning. It's a rare chance to immerse yourself with two teachers who hail from Los Angeles, a city so steeped in Lindy Hop history and tradition. Lauren and Peter have taught similar workshops recently in London and Sydney with rave reviews. They have a relaxed teaching style that has you immersed in great new concepts, in-depth technique and a light hearted approach through to the day.
Schedule:
1.10pm check in
1.15pm – 2.45pm Lindy Hop session 1
2.45pm – 3.15pm lunch/break
3.15pm – 4.45pm Lindy Hop session 2
4.45pm – 4.55pm video recap
COSTS AND REGISTERING
Online pre-booking only
Full weekend: $200 per person
Single Day: $105 per person
Pair: $400 (1 Lead + 1 Follow: full weekend)
Registrations close 5pm Fri 27 July. Attendees are strongly encouraged to register online prior to the closing date.
Book now
Breaking news! By popular demand, for those who want to make a last minute decision, we will accept casual attendees on the day, paying cash at the door (correct money please, we won't have much change.)
CASUAL CASH PRICE:
Full weekend: $210 per person
Single day: $120 per person
YOUR TEACHERS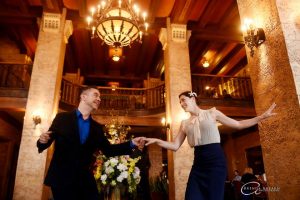 Peter & Lauren are absolutely loved by Swing Patrol dancers and have taught high-end workshops for us in London, Brighton, Sydney and Melbourne. They are spoken of so highly as teachers and we are excited to welcome them back to Melbourne this July.
These two dynamic instructors have over thirty years of teaching experience between them. Their elegant style and smooth dancing stands out wherever they go, and their enthusiasm for teaching has made them crowd favorites around the world. Based in Southern California, they are much in-demand, sharing their passion for the great classic dances of the Swing Era. Their classes and workshops are acclaimed for their clarity, humor and high spirits!
Peter Flahiff began swing dancing in 1993 and started teaching just one year later. He's taught across the country and around the world, including the Herrang Dance Camp, Camp Hollywood, Camp Jitterbug, Lindy Focus and many, many more. He's a noted instructor, coach, DJ, lecturer, MC and competition judge. Today, Peter counts some of the world's top dancers and instructors as his former students. Peter's worldwide reputation is as a highly sought-after social dancer and instructor, and his "Art of Social Dance" lecture & discussion has received global acclaim. He has also helped create several thriving venues and dance scenes over the years (Rusty's Rhythm Club in Los Angeles, ATOMIC Ballroom in Orange County, and Eastside Stomp in Seattle, and several more) which continue to thrive today. Peter's passion for the Swing Era shines through in his teaching as well as his daily life.
Lauren Smith has been dancing since she was five years old. She started dancing Lindy Hop in 2007, when her friend brought her to LA's Lindy Groove. From there, she started dancing almost every night of the week and competing regularly.
Lauren specializes in jazz era dances, especially Lindy Hop, Balboa, Charleston and Collegiate Shag. She is very passionate about the preservation and instruction of the partnered jazz dances of the swing era.
She has won or placed in a number of national and local dance competitions, including Camp Hollywood, the Lone Star Championship, Inspiration Weekend, Le Hot Sauce, and many others. She taught regularly around the Los Angeles area, as well as at dance exchanges and workshop weekends around the country. Lauren is sought after as a swing DJ and competition judge, and helped organize the Roaring Twenties Street Jam in 2014 and 2015.
Her goal as a teacher is to inspire her students to grow in their abilities and love of jazz dance.

FAQS AND OTHER INFORMATION I NEED TO KNOW
* These workshops are suitable for intermediate level swing dancers and beyond. For the Shag workshop, attendees should be comfortable with the basics of Collegiate Shag. For the Lindy Hop workshop, attendees should be very comfortable dancing and learning at an intermediate-to-advanced level and ready for a challenge.
* Attendees must pre-register online prior to the closing date (Fri 27 July). Only registered attendees will be admitted, no door sales on the day for this workshop.
* What do I wear?
Shoes comfortable for dancing. Comfortable clothing that you can really move about in. Remember that you're partner dancing, not working out in a gym – sleeves are preferable to tank tops or singlets.
* What do I bring on the day?
Water bottle, snacks, mints, deodorant, spare t-shirt, small towel, band aids – and a smile and lots of energy!
Note that breaks are only 30 mins long, so bring your lunch with you to save time.
* Cancellations and Refunds:
Some of our venues have a fixed capacity so we close off places for participants at a set point. For this reason, cancellations and refunds are not possible without 24 hours notice as we may have turned away other dancers. Thanks for understanding.
Where applicable, a full or partial refund (less administration fee) may be available up to close of registrations. Contact info@swingpatrol.com.au
After close of registration, no refunds will be issued.
We are pretty friendly and approachable so send an email and hopefully we can assist you!
* Any other questions?
Any questions, email info@swingpatrol.com.au