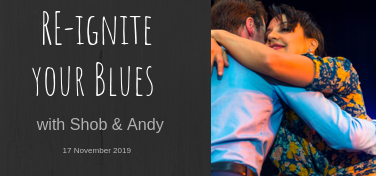 Re-ignite Your Blues
Back by popular demand, Shob and Andy present another engaging and challenging day of blues learning. With a wealth of experience teaching blues around the country, they have recently been invited to teach at the prestigious Espanish Blues Festival 2020 in Spain. We are so excited to have them share the ideas they are working on with the Melbourne community.
Come along to classes and then take your new inspiration out for a spin at Sunday Blues Night, and keep it going at Fitzroy Blues Dancing.
DETAILS AT A GLANCE
When: Sunday 17 November 2019
Where: Next Level [upstairs Studio 2] – 325 Victoria St, Brunswick VIC 3056
SCHEDULE AND CONTENT
10.45am Check in
11.00am – 12.15pm Session 1 "Train your blues"
We take a deep dive into blues fundamentals: taking confident clear steps, developing flow and momentum, using stretch and lag. Lots of practice time and opportunity for personal feedback … get your blues mojo on!
12.30pm – 1.45pm Session 2 "Jam your blues"
Find the courage and confidence to solo jam with your partner, how to express yourself in your moment but also be the most supportive partner possible.
1.45pm – 2.30pm – lunch break
2.30pm – 3.45pm Session 3 "Glam your blues"
Using the blues aesthetics of polycentric movement and asymmetry to create shapes in our own bodies and in our partnerships.
COSTS AND REGISTERING
ONLINE PRE-BOOKINGS
$60 per person
$120 Pair Pass (1 Lead & 1 Follow)
This workshop SOLD OUT in advance of advertised close of registrations. There will be no tickets available at the door. Please note that places are limited by venue size.
If you're registering for you and a friend, make sure you register Leads and Follows separately – please don't book 2 Follow tickets for a Follow and a Lead. Or you can buy a Pair Pass in one single transaction (for 1 Lead and 1 Follow.)
CASH AT THE DOOR
$70 per person
*cash only – please bring correct money*

WORKSHOP SOLD OUT.No door sales.
FAQS AND OTHER INFORMATION I NEED TO KNOW
* This workshop is aimed at swing dancers who are comfortable with partner dancing (lindy hop, balboa, shag etc) and keen to broaden their experience and explore blues dancing.
* We will be teaching lead & follow partnered blues dancing, so you will need to elect to dance as a Lead or a Follow. You don't need to register with a partner or bring one with you. We frequently change partners throughout the sessions.
* What do I wear?
Shoes comfortable for dancing (flat shoes might be preferable if you're not accustomed to dancing in heels.)
Comfortable clothing that you can really move about in.
* What do I bring on the day?
Water, small towel, deodorant, mints, snacks, lunch, and loads of energy!
* Cancellations and Refunds
Some of our venues have a fixed capacity, and we also need to balance leads & follows for better partner dancing experience, so we close off places for participants at a set point. For this reason, cancellations and refunds are not possible without 24 hours notice as we may have turned away other dancers. Thanks for understanding.
Where applicable, a full or partial refund (less administration fee) may be available up to close of registrations. Contact info@swingpatrol.com.au
After close of registration, no refunds will be issued.
We are pretty friendly and approachable so send an email and hopefully we can assist you!

* Any other questions?
Any questions, email info@swingpatrol.com.au
YOUR TEACHERS
Shob and Andy fell in love with blues from their early days of swing dancing 15 years ago, and they are still so passionate about exploring and sharing this art form. They are two of Australia's most sought-after blues instructors, having taught extensively around Australia, NZ and recently Madrid.
Together and separately they have won multiple titles in blues and slow swing, including the Australian Blues Championships. Shob is also the creator and co-director of Slowdown, Australia's first ever weekend dedicated to celebrating all forms of slow dance.
They are both students and teachers of this beautiful dance and take any opportunity to learn and challenge themselves. They are inspired by the original African American musicians and dancers who created this art form and are humbled by the opportunity to share it with others.
Watch Shob and Andy performing a beautiful Blues dance.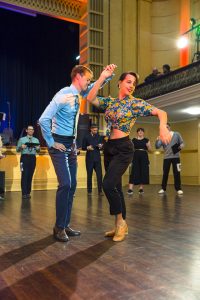 (Photo credit: Cuskelly Photography)