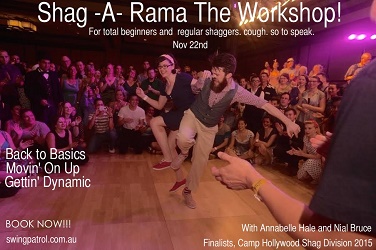 Shag -A- Rama! the Workshop
Collegiate Shag for total beginners and regular shaggers
The Collegiate Shag revival is in full swing – pun intended. Join the hepcats bringing this fun and fantastic swing dance to the social floor.
Whether you're a total beginner itching to learn, or have some Collegiate Shag experience and keen to know more, here's a workshop with something for all.
Annabelle Hale and Nial Bruce are Melbourne's best Collegiate Shag teachers and great ambassadors for the resurgence of the dance. Join them for this workshop and join the growing number of Shag dancers about town.
SCHEDULE
Session 1: 10:30am – 12:00pm
Back to Basics
30min break
Session 2: 12:30pm – 2:00pm
Movin' On Up
30min break
Session 3: 2:30pm – 4:00pm
Gettin' Dynamic
WORKSHOP CONTENT
Session 1: Back to Basics
Going back to the basic positions of Shag, for a good grounding in your frame, footwork and connection.
(Suitable for total beginners and Level 1 Collegiate Shag dancers.)
Session 2: Movin' On Up
Some great moves to really get you dancing on the social floor.
(Suitable for Level 1/2 Collegiate Shag dancers, and those who've done Session 1.)
Session 3: Gettin' Dynamic
In this session we're going to break down our technique, and work on adapting our Shag to get the most out of the music.
(Suitable for Level 2/Intermediate Collegiate Shag dancers and beyond.)
COSTS and REGISTERING
Option A: Online Pre-bookings
$30 per person per session
$50 for any two sessions
$70 for the whole day.
Online registrations will close Thursday 19th November at 5pm.
(Note that TryBooking is not an app and won't work properly from a phone or other device. Best to get onto a computer to register.)
Registrations open now!
Book now
Option B: Casual attendance
$35 per person per session
$60 for any two sessions
$80 for the whole day.
for casual attendance paid in cash on the day – no need to register.
FAQs and Other Information I Need to Know
* This workshop aims to cater for a range of abilities and experience, across progressive sessions. Please refer to the Suitability guidelines in the Workshop Content descriptions to determine which sessions are appropriate for your level of experience.
Note: Session 3 will assume a good grasp of the fundamentals of Collegiate Shag and confidence in dancing the basics, allowing you to build on that knowledge with more advanced moves and concepts. Session 3 will not be suitable for those whose first taste of Collegiate Shag was Session 1.
* You do not need a partner to register, we will rotate partners throughout the workshop.
* You can pre-register and pre-pay for this workshop to receive the discounted price OR you can pay cash on the day for casual attendance.
* If you're registering online for you and a friend, make sure you register Leads and Follows separately – please don't book 2 Follow tickets for a Follow and a Lead.
* What do I bring on the day?
Shoes comfortable for dancing (Shag dancers usually wear flat shoes), water, small towel, deodorant, mints, snacks, lunch.
* Any other questions?
Any questions, email info@swingpatrol.com.au
YOUR TEACHERS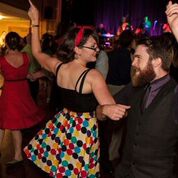 (photo credit Anthony Cuskelly)
Annabelle Hale and Nial Bruce have been dancing Shag since they started learning swing dancing. After their first lessons, their dance hobby has become a dance obsession that has lead them to compete in the Australian Jitterbug Championships, Australian Shag Camp and the finals of the Camp Hollywood Shag competition. They've learnt from some of the greatest Shag dancers the world has to offer and are excited to share this dance they love with the Melbourne swing scene.
Click here to check out fabulous Collegiate Shag dancing, including Annabelle & Nial (#147) competing in the finals of the Shag division at Camp Hollywood 2015.