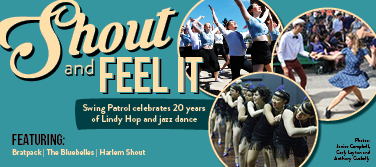 Shout and Feel It
Shout and Feel It: Swing Patrol celebrates 20 years of Lindy Hop and jazz dance
From the ballrooms and bandstands of 1940s Harlem came the Lindy Hop – the dance synonymous with fast feet, high-flying aerials and big band jazz.
Fast forward to 1998 in Melbourne, where Scott Cupit and Claudia Funder had a dream to spread this joyous dance commonly known as swing dancing. 20 years on, that dream has brought joy to thousands in Melbourne, Sydney, London and Berlin, through dance classes, socials, competitions, performances and more. In celebration of Swing Patrol's 20th anniversary, their three Melbourne performance troupes — Harlem Shout, Bratpack and the Bluebelles — bring you a dazzling and energetic theatre show, full of happy feet, humorous memoirs and infectious music.
Hosted by Swing Patrol co-founder and director, Scott Cupit, sit back and watch as Swing Patrol's performance troupes bring you this theatre spectacular, featuring the dances of the swing era and the traditions of today's dance scene. No dance shoes required.
Details at a glance:
Date: Sunday 15 July 2018
Time: 7:30-9:30pm
Location: Darebin Arts and Entertainment Centre Theatre – Cnr Bell St and St Georges Rd, Preston
Tickets: $40 (plus transaction fees where applicable)
Available via venue (not via Swing Patrol)
How to buy tickets:
Option 1: Online here Book now
Option 2: from Darebin Arts and Entertainment Centre by phone: 8470 8280
Option 3: from Darebin Arts and Entertainment Centre box office in person.
Tickets MAY be available at the door on the night but ONLY IF not sold out in advance.
Please note the venue has allocated seating and tickets will be issued on a first come/first served basis. Book early to avoid disappointment!
This is a theatre-style show, with tiered seating. There will be no tables, no cabaret-style seating and no dance floor.