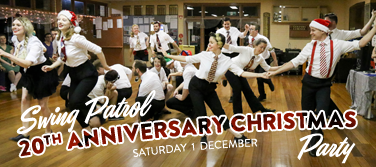 Swing Patrol 20th Anniversary Christmas Party
Whether you're new to swing dancing, been at it for a while, have been part of the community for years, or have fallen a little bit out of touch, we'd love to welcome you for a dance, a drink, a laugh and a catch-up. We'll toast the old year, look forward to the new, and reminisce about the past at this once in a lifetime event.
Featuring:
– The Richard Montgomery Quartet featuring Sarah MacLaine, a live band led by swing musician, former Lion King conductor and original Swing Patrol troupe member, Richard Montgomery.
– some of our favorite DJs playing hits and memories of Swing Patrol through the years.
– lots of social dancing.
– performances from sensational swing dance troupes.
– MC Scott Cupit, with banter and stories from Swing Patrol then and now.
– complimentary beginner lesson at 7.30pm with the original Swing Patrol teacher, Scott, and the newest member of the teaching team, Caitlin.
– Lithuanian Club bar on site (so NO BYO).
– a few surprises.
Space is strictly limited, so be quick!
WHEN & WHERE
Date: Saturday 1 December 2018
Venue: Lithuanian Club – 44 Errol St, North Melbourne
COST AND REGISTERING
ONLINE PRE-BOOKINGS
$35 adults
$15 kids 5 – 15 years
Online registrations will close at 12pm Friday 30 November, or when sold out.
After that time, tickets will only be available for full cash price at the door, and only until sold out.
Bookings now open!
Book now
CASH AT THE DOOR
**Only available if not sold out in advance.**
$45 adults
$15 kids 5 – 15 years
YOUR QUESTIONS ANSWERED
Q: What's the DRESS CODE?
A: Wear what you like – add a touch of Christmas cheer, go full vintage swing … Or you may like to dress in something that says "Swing Patrol" to you – a fondly remembered performance ball costume, an old troupe outfit, what did you wear to the famous S & P dress-up party? There's 20 years of history to inspire you.
Q: Will there be allocated seating?
A: No. Your ticket gives you entry to the party. There won't be much seating, especially in the Ballroom, so we can make space for dancing. There is a separate bar with some seating, for when you need a break or want to chat.
Q: Is there food available?
A: There may be some snacks at the bar (chips, nuts). But there's plenty of eating spots in the immediate vicinity, so grab a bite before the party.
Q: Is it BYO?
A: No, there is a delightful bar at the venue, so please don't BYO (though you can bring your water bottle … as long as you take it home with you.)