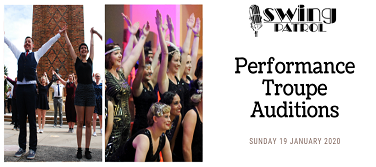 Swing Patrol Performance Troupes 2020 – Brat Pack & The Bluebelles – AUDITIONS

Auditions will be held for new members of Swing Patrol's performance troupes, Brat Pack and The Bluebelles.
Audition Date: Sunday 19 January 2020
Audition Time: Brat Pack 2.30 – 3.30pm; The Bluebelles 3.45 – 4.45pm
Audition Venue: Forever Dance ( Studio 2) – 432 Church St, Richmond VIC 3121
While the two troupes are holding auditions on the same day, the auditions for each troupe will be separate.
Brat Pack will audition first, from 2.30pm, followed by The Bluebelles at 3.45pm.
Those wishing to audition for both troupes will audition twice.
To register for a place at the Brat Pack Audition Click here
To register for a place at the Bluebelles Audition Click here
Registrations CLOSE 5pm Friday 17 January.
Who should audition?
FOR BRAT PACK
You have been one of the regular faces at your weekly venue for a while now. You are a competent social dancer with a solid swing out and you are comfortable leading and/or following different patterns. You are obsessed by this dance and want to branch out and develop your skills further. You're willing to learn and you have a passion to perform, share and get in front of people.
Selection Criteria?
* Decisions for membership of the group will be made on the basis of the following criteria:
– The audition
– Personality and "fit" with the group.
– Your previous attendance (if you've been in a troupe before)
– Participation in gigs (if you've been in a troupe before)
FOR THE BLUEBELLES
We are looking for people who LOVE dancing and want to focus on their solo rhythm and quality of movement. Experience with solo jazz/charleston is helpful but not essential. If you've done some Swing Patrol classes, we are looking for dancers level 2 and up.
Selection criteria?
* Decisions for membership of the group will be made on the basis of the following criteria:
– Quality of movement (Having groove and flow in your dancing)
– Enjoyment of dance and jazz
– Performance ability
– Personality and "fit" with the team
– Your attitude towards learning and working in a group
What happens at the audition?
When you arrive, go to the "Registration Table" where all dancers (Leads and Follows and Solo dancers) will receive a number. Check the list on the table and take your number from the numbers box.
You need to have your number pinned to you on a visible area.
Audition format:
FOR BRAT PACK
Mix and Match (Heat Style) dance: 3 x partner changes to different speeds
A rueda – a simple piece of repeating choreography that goes around the circle. Don't worry, we'll teach it to you!
FOR THE BLUEBELLES
The audition will have the following elements:
1. Warmup
2. Routine choreography – learning and performance in small groups
3. Improvisation in pairs (no performance element)
4. Jam circle (2-3 dancers at a time)
At the end of the audition you MUST return your number to the Registration Table. Any un-returned numbers will incur a replacement charge.
Audition-specific FAQs
Do I have to register to do the audition?
* Yes, you must register ahead of the audition date. We will not accept walk-ins.
What if I can't make it on Audition Day?
* If you wish to be considered for troupe and can't make it, please register for the audition and provide a comment on the form. Alternative arrangements may possibly be made for extenuating circumstances.
Who is on the Audition Panel?
* Annabelle Hale, Chris Gaspardis, Genevieve Wallis Best and Steph Ashby.
Can I audition for both Brat Pack and The Bluebelles?
* Yes. You can be in both Bluebelles and a partnered troupe. You can only be accepted into one partnered troupe.
Can I audition for Brat Pack as both a Lead and a Follow?
* Yes. When you register for a place at the audition, you will be asked to sign up as Lead, Follow or Both. If you audition for Both roles, you will dance in 2 heats, once as a Lead and once as a Follow.
You may audition for Both roles, but you can only be offered a place as one role, either Lead or Follow.
When will I know if I got in?
* By Sunday 26 January 2020, we will have emailed everyone as to whether they've been accepted or not.
If I get in, when do weekly rehearsals start?
* Brat Pack – Tuesday 28 Jan
* Bluebelles – Thursday 20 Feb
Important Notes
This is a Performance Troupe and at the audition you are being judged. It's not a social dance and it's not a class. It's an AUDITION.
Usually we can accept fewer than 50% of the people auditioning which makes it a very genuine audition so you are indeed competing for a place within troupe. Whilst we do not want you to stress, you need to bring with you:
• Dance Shoes
• Water
• A big smile
• That performance shine, sparkle, and zing so that you stand out
We judge everyone on their own personal merit. We do not consider individuals within the context of a social group, clique, or romantic partnership.
We will consider how an auditionee's personality may fit into the existing troupe.
If you are in a romantic partnership and you're both auditioning, have a think about and anticipate the worst-case-scenario that one of you might be accepted and the other not.
ABOUT THE TROUPES
BRAT PACK
Brat Pack is one Swing Patrol's partnered swing dance performance troupe.
It is a passionate and dedicated team, working together to improve their dancing and learn routines for performances which give focus and a goal to personal learning.
Troupe leaders have been briefed to give a good range of learning to the team across the year and to mix up routines and learning opportunities. The willingness to attend rehearsals every week, depend on each other, fully participate and share in the responsibility and fun of gigs is utterly essential.
Troupe Size: approx 20 couples (20 Leads and 20 Follows)
Rehearsals: every Tuesday night, 7pm – 9pm
First rehearsal: Tuesday 28 January 2020
Location: Dance Factory, Studio 1, 225 Swan Street, Richmond
Troupe Leaders: Genevieve Wallis Best and Chris Gaspardis
* Leaders/teachers – are the main creative drive for the team. They may not take every session – and it's good to have diversity of teaching – but they shape the programme and basically run the team. Very handpicked role!
Cost of membership: $97 per person per month, payable by PayPal subscription.
THE BLUEBELLES
The Bluebelles are Swing Patrol Melbourne's solo jazz dance troupe. We are made up of enthusiastic dancers keen to learn together and encourage one another. We focus mainly on
vintage and vernacular solo jazz from the '20s, '30s and '40s. Throughout the year we work on dance technique, improvisation, and finding your style through the dance.
This is a performance troupe, with a variety of routines to be learnt and performed throughout the year.
Troupe Size: approx 16-18 dancers
Rehearsals: every Thursday night, 7pm – 9pm
First rehearsal: Thursday 20 February 2020
Location: Studio Hygge – 646 Nicholson Street North Fitzroy, 3068
Troupe Leaders: Annabelle Hale and Steph Ashby
Cost of membership: $97 per person per month, payable by PayPal subscription.

What does it cost to be in troupe?
Cost of membership: $97 per person per month, by PayPal subscription
Note there are no discounts or waiving of fees. This is a fee for membership of the troupe, not a per-session payment. Membership may be suspended for an extended period on request, but no reimbursement for missing a few rehearsals.
Am I expected to be at every rehearsal?
Yes, although we understand that people have jobs, holidays, etc.
What does being in a troupe offer?
Swing Patrol troupes offer a formal setting for learning and performance of routines. Our aim is to challenge you and extend you as a dancer and performer and build the group as a fabulous team working together in a challenging and fun environment. Gigs are used as performance targets throughout the year and are incredibly exhilarating and rewarding. Sometimes we can't see how we're improving over time, but doing a gig is such a buzz and highlights the work we do. You will also gain:
* A more diverse and challenging way of learning than regular classes.
* A dedicated, committed group to work with, at your level.
* The challenge of dancing some wonderful routines.
* Opportunity for external and swing community gigs.
* Dancing with a true mix of people, not just "your friends".
* Respect and focus in the wider scene.
* Working with specifically focused teachers over an extended time.
* Pushing yourself as a dancer.
* Pushing yourself as a performer.
* Developing more diverse and meaningful friendships within the group.
* A curated programme of learning for the year.
* Exploring the more artistic and creative detail within the dance.
* Giving back to the community in a different way.
If being part of a performance troupe sounds like your kind of fun and excitement, book your place at the troupe audition.
Register for Brat Pack audition
Register for The Bluebelles audition
Registrations CLOSE 5pm Friday 17 January.
ANY QUESTIONS?
Email info@swingpatrol.com.au