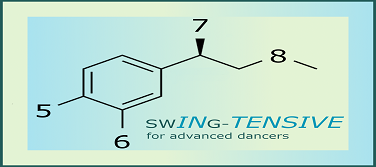 SwINg-TENSIVE
Swing Patrol presents …
SwINg-TENSIVE for advanced dancers.
After a successful debut year of SwINg-TENSIVE sessions at Swing Patrol CBD, this popular advanced class is now moving to Fun Pit Friday nights! This will give advanced dancers a rare opportunity to take advantage of an early class time and still be able to go dancing or enjoy their evening after class. Particularly so with Fun Pit just down the road! Your attendance at SwINg-TENSIVE gives you FREE ENTRY to social dancing on the same night at Fun Pit.
These intensive sessions, tailored to advanced dancers, will take place on one Fun Pit Friday of each month from 7.15pm to 8.45pm at Dance Dynamics, 1/493 Church St, Richmond.
The monthly 90-minute sessions are designed for those dancers wanting to explore advanced concepts and material in challenging and exciting ways. Sessions will be taught by some of Melbourne's most experienced and respected swing dance instructors. This is a rare opportunity to geek out and put under the microscope different areas and aspects of your swing dancing in a workshop-like atmosphere.
Swing Patrol's SwINg-TENSIVE
7.15pm – 8.45pm (doors open from 7.00pm)
One Fun Pit Friday of each month
Dance Dynamics: 1/493 Church St, Richmond
Cost: $22 cash per session (or 1.5 circles on your Class Discount Card)
Includes free entry to social dancing at Fun Pit on the same night.
No pre-bookings, simply come along and pay at the door.
2017 Dates
31 March
April – NO CLASS (Fun Pit at Dance Dynamics)
26 May – with international superstar teacher RAMONA STAFFELD Facebook
23 June – "Fast Dancing!" with Loz and Jarrod Facebook
21 July
18 August – NO CLASS (rest up before AJC on 19 Aug!)
29 September
27 October
24 November
Join the Facebook group for updates!