Have you been to Fig Jig?
by swingadmin on 3rd April 2018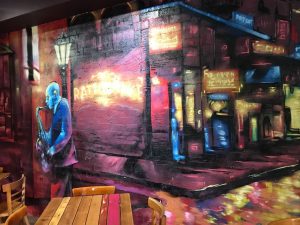 Fig Jig may be the perfect way to spend an Autumn Sunday.
Fortnightly on Sunday afternoons, Swing Patrol partners with The Moldy Fig for beginner-friendly swing dancing, accompanied by good food and drinks and fabulous company.
You'll love the cool and casual, fun and friendly atmosphere of this wonderful New Orleans-style cafe & bar in the north-side hub of Brunswick East.
Just $8 entry, cash at the door, for an afternoon of dancing that includes a taster lesson at 1.40pm, with anchors Jeanne-Clare Storace and Josh Varcoe. So bring your friends for a taste of swing fun.
Check out the Moldy Fig's menu, to keep up your energy and make a great day of it, with extended Happy Hour from 2pm-7pm (card facilities available at the bar.)
Fig Jig @ The Moldy Fig: 120-122 Lygon St, Brunswick East
1.30pm doors open
1.40pm Beginners taster class
2.10 – 5.30pm Social dancing
Upcoming dates:
Sunday 8 April
Sunday 22 April
Sunday 6 May
Sunday 20 May
Follow the Fig Jig Facebook page for updates.
(Figs Jigging – artwork by Annabelle Hale – Artist)