Have you got the blues?
by swingadmin on 29th October 2018
Did you know you can dance to blues music?
Swing Patrol now offers blues dance classes at TWO venues in Melbourne's inner-city hubs.
Fitzroy Blues Dancing
Every Thursday night at
The Kodiak Club, 272 Brunswick St. Fitzroy
6.30pm beginner level class
8.00pm free practice time
8.30pm intermediate level class
Our newest venue, anchored by Corinne Allen and Tim Jones.
And at the long-running
Sunday Blues Night
weekly at The Exford Hotel, 199 Russell St, in Melbourne's CBD
6.30pm intermediate level class
7.30pm beginner level class
8.30-10.30pm FREE social dancing to music from blues DJs.
(Plus a special edition Nerd Out session for Advanced blues dancers 5.30pm on 18 Nov.)
Click the image below to watch the blues dance routine by the Sunday Blues Night crew at this year's Swing Patrol Performance Ball: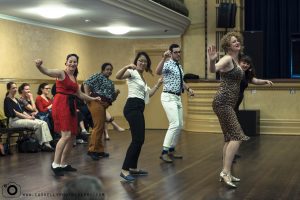 Photo credit: Cuskelly Photography