For Your Event
Our talented team of swing dancers can bring exciting floor shows, a fun & friendly dance lesson or great dancing couples to add atmosphere to your event.
We give swing lessons at all manner of events, from outdoor festivals teaching 5,000 people at White Night, to boutique dinners for a group of 10. If you have the people, we can make it happen! We love a challenge. So why not email us to discuss what we can do for you?
Swing Patrol has two dynamic performance troupes: Harlem Shout and The Blue Belles. You can see the troupes in action below.
Harlem Shout

Swing Patrol's premier swing dance team perform for corporate crowds, events, festivals and gigs all around town. Harlem Shout dancers are stylish and energetic, and with routines ranging from 1920s Charleston to big band Lindy hop, they can add the marvellous spirit of the swinging jazz era to your next themed event.

The Blue Belles

The Blue Belles are Swing Patrol's all-girl Charleston troupe. Classy yet cheeky, they bring the fun and flair of the classic 1920s Charleston and the glamour of the chorus line.
For more information, please email info@swingpatrol.com.au to discuss all the possibilities.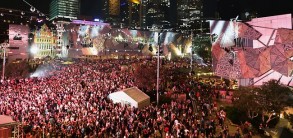 Previous and upcoming gigs:
St Kilda Festival
White Night Festival
Spiegeltent Sundays
Melbourne International Jazz Festival
Red Cross Ball, Crown Palladium
Mark Webber Charity Ball
Commonwealth Games Club
Melbourne International Festival Opening Night
Dancing in the Streets
Morning Melodies, Arts Centre Melbourne
Twilight Jazz, Melbourne Zoo
First Friday Dance Club, Docklands
Miss Fisher's Murder Mysteries Costume Exhibition To discuss how our troupes can make your event really swing ... contact info@swingpatrol.com.au