Performance Ball Thank you!
by swingadmin on 7th October 2018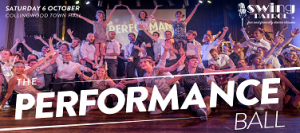 Swing Patrol Performance Ball 2018!

Congratulations to everyone involved in running or performing at the Performance Ball. Take a bow and thanks for being part of such a great tradition.
A standing ovation is due to all the performers, whether this was your first Performance Ball or your umpteenth. It's simply amazing how much heart, soul, blood, sweat and tears goes into realising that 3 minutes on the dance floor, and how exhilarating it is to perform to a wildly supportive crowd of your peers and fellow swing lovers. There is no more appreciative audience than our own tribe, our community.

Huge THANK YOU to all those who gave their time and talents to the Ball, in various capacities.
TEACHERS:
Heartfelt thanks and applause must go to our tremendous teaching team, who select music and choreograph and teach routines week to week in fun and engaging classes. In addition, they dedicate time to extra rehearsals, providing supplementary learning aids, organising costumes, and generally supporting their eager and sometimes anxious students in the lead up to the big event and on the night. Performance Ball is a true mark of the passion and skill of this wonderful group.
BLUES NIGHT ON SUNDAY: Kara Martin, Vanessa Nimmo, assisted by Shaunie de Little
BRUNSWICK: Joel Kohn, Shob Nambiar
CAMBERWELL: Ernie Soh, Steph Ashby
COBURG COLLEGIATE SHAG: Annabelle Hale, Nial Bruce
ELSTERNWICK: Krystian Ragiel, Sarah Wheaton, assisted by Nicole Smith
MELBOURNE CBD: Josh Varcoe, Sarah Wheaton, assisted by Miyako Miyazaki
MONASH UNI: Annabelle Hale
NORTHCOTE: Federica Cazzaniga, Krystian Ragiel
OAKLEIGH: Annabelle Hale, James Philipsen
RICHMOND BALBOA: Ian Caughley, Kathryn Atkinson, Luke Serrano, Nicki Jackson
YARRAVILLE: Garrad Flint, Melissa Thomas
THE BLUEBELLES troupe: Genevieve Wallis Best, Meredith Eldridge (with choreography by Yasemin Tanzirel)
BRAT PACK troupe: Chris Gaspardis, Genevieve Wallis Best
HARLEM SHOUT troupe: Janice Campbell, Matt Yeung, assisted by Noni Healy
And not forgetting those members of the teaching team who carried on with regular lessons, outside of teaching routines for the performance:
Anna van Dijk, Chris Sutton (Fitzroy – courses)
Corinne Allen, Tim Jones (Fitzroy Blues Dancing)
Joel Kohn, Tanya Stephan (Fun Pit)
Melinda Smith, Ian Caughley (Club Maxie's)
Nicole Smith, Scott Everard (Moorabbin)
Reece Campbell, Vivi Kalman (South Yarra)
Event curators: Kerryn Hyde, Melinda Smith
MC: Jeanne-Clare Storace
DJs: Tyler Holmes (performance), Tanya Stephan (social)
Audio: John, HB Audio
Performers' Marshals: Ian Caughley, Melinda Smith
Photography: Anthony, Cuskelly Photography
Videography: David Chan, Jessica Chiu
Bar Services: Liquid Infusion
Beginner lesson teachers: Nicole Smith and Scott Everard (SP Moorabbin)

Front Of House and Behind the Scenes:
Kerryn Hyde and the awesome Volunteer Crew –
Airlie Bee, Andrew Brooking, Caroline Ondracek, Charles Chatelier, Divya Rama Gopalakrishnan, Frances Monro, James Thomson, Jess Carruthers, Leslie Cheng, Mike Brooks, Ning Xue, Paula Hendrikx, Theo Davies.
Official videos and photographs of the Ball coming soon to Swing Patrol Melbourne Facebook and Instagram.
In the meantime, hit social media to post your own photos, upload your videos and share your memories. Tag #swingpatrolmelbourne