Performance Ball Thank You
by swingadmin on 9th October 2017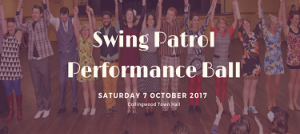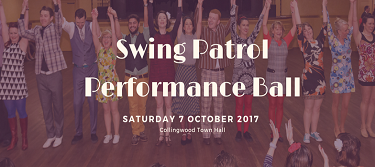 Performance Ball 2017!
Congratulations to everyone who participated in this year's Performance Ball – an entertaining cavalcade of colour and costumes, themes and ideas, great music, inspired choreography and awesome dancing!!
A standing ovation is due to all the performers, whether this was your first Performance ball or your umpteenth. It's simply amazing how much heart, soul, blood, sweat and tears goes into realising that 3 minutes on the dance floor, and how exhilarating it is to perform to a wildly supportive crowd of your peers and fellow swing lovers. There is no more appreciative audience than our own tribe, our community.
Huge THANK YOU to all those who gave their time and talents to the Ball, in various capacities.
TEACHERS:
Heartfelt thanks and applause must go to our tremendous teaching team, who select music and choreograph and teach routines week to week in fun and engaging classes. In addition, they dedicate time to extra rehearsals, providing supplementary learning aids, organising costumes, arranging pre-performance dinners and generally supporting their eager and sometimes anxious students in the lead up to the big event and on the night. Performance Ball is a true mark of the passion and skill of this wonderful group.
BALPIT: Kathryn Atkinson, Luke Serrano, Nicki Jackson
BLUES: Kara Martin, Vanessa Nimmo and team
BRUNSWICK: Joel Kohn, Shob Nambiar
CAMBERWELL: Erin Richardson, Ernie Soh
CBD: Jarrod Bates, Julia Wharington
COBURG: Adrian Tosello, Kara Martin, Vanessa Nimmo
ELSTERNWICK: Anthony Wheaton, Sarah Wheaton, Tim Jones
FITZROY: Gabby Urban, Tim Jones
MIDDLE PARK: Scott Everard, Vivi Kalman
MONASH UNI: Matthew Hendy
NEWPORT: Ari Levi, Dan Dobber, Lauren Byrne
NORTHCOTE: Federica Cazzaniga, Krystian Ragiel, Reece Campbell
OAKLEIGH: Annabelle Hale, James Philipsen
RICHMOND: Annabelle Hale, Nial Bruce
SEDDON: Garrad Flint, Jeanne-Clare Storace
BLUE BELLES troupe: Genevieve Wallis Best, Meredith Eldridge (with additional choreography by Kara Martin)
HARLEM SHOUT troupe: Janice Campbell, Matt Yeung
MC: Claudia Funder
DJs: Tanya Stephan (performances), Noni Healy (social – Town Hall), Brodie Gilligan and Tyler Holmes (Late Night After Party)
Performers' Marshals: Ian Caughley and Melinda Smith
Sound: HB Audio
Photography: Anthony, Cuskelly Photography
Videography: Stav, Freelance Photographer Melbourne

Front Of House and Behind the Scenes:
Kerryn Hyde and the awesome Volunteer Crew –
Adam Celeban, Asha Sebastian, Caitlin Bennett, Christine McCrae, Christine Molina, Jet Phey Lim, Matt Gellert, Mike Brooks, Monica McNab, Nathan Gardner, Theo Davies
Beginner lesson teachers: Annabelle Hale, James Philipsen (SP Oakleigh)

Official AJC Photographs and Videos COMING SOON – WATCH THIS SPACE.
In the meantime, hit social media to post your own photos, upload your videos, tag and share your memories.
Be sure to head back to your favourite class venue – celebrate your achievements with your friends and fellow students, and enjoy renewed focus on good ol' lead & follow social dancing.