Swing into the New Year!
by swingadmin on 8th January 2019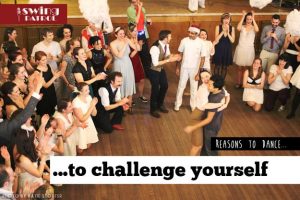 Resolutions are all anybody can talk about this time of year, and for good reason – an article from the American Psychological Association says that people who make resolutions are 10 times more likely to successfully change their behaviour than those who do not make a resolution.
What are the most popular resolutions around? And how can you take a good swing at them?
1. Improve your fitness
Psychology Today says that "enjoyment is a key factor" in sticking with your New Year resolutions. Try a new form of exercise that keeps a smile on your face! Sure, the first lesson or two might make your face seem a touch more confused than happy. But after a few, you'll wonder how you used to get through the week without a dose of swing dancing!
2. Eat better
Can't help you here I'm afraid – swing dancers often go out for ice-cream or milkshakes after class! But that's okay, cause by then you'll have earned the treat 😉
3. Quit smoking
Avoid your triggers – those bars, cafes and places that automatically make you reach for light. Instead, try out new places. Swing Patrol has classes in more than a dozen locations all over Melbourne. Come find us and hang out – smoke free!
4. Quit drinking
There's barely time to drink when you're swinging out! And to be honest, you won't miss it, cos swinging out is easier with a clear head!
5. Learn something new
If weekly classes just aren't enough learning for you, then there are plenty of workshops that will improve your swing dancing out of sight! Whether you are looking to spruce up your basics with a weekend intensive, or learn to fly with aerials. We have something for you!
6. Travel more
Swing dancers travel for their dancing. They have "exchange weekends" where workshops and/or social events are run over a weekend, with dancers travelling from all over! They're a great holiday – you learn heaps and make friends that you might even keep for life! Check out upcoming events already planned for 2019!
7. Volunteer
Swing events are community lead, and volunteers are the backbone! Put your hand up, get involved, and you never know, you might just have some fun while you're doing it! Volunteer spots for our events are posted in our weekly eNewsletter.
8. Meet someone
We can't guarantee you'll meet the "one", after all we're dance classes not a dating service. But we can say that you can make a beautiful group of new friends at a swing dance event.
9. Sleep more
Recent studies confirm that a regular exercise routine does contribute to improved sleep. It's not a magic fix-all, but when it comes to sleep and exercise, there is a significant benefit to be gained by sticking with a regular routine, and allowing the benefits to develop gradually. Slow and steady wins the race, in this case.
10. Get out of debt
A class is only $18. And if you buy a Class Discount Card, then it becomes even cheaper per class. Plus, once you've managed to quit smoking, reduced your drinking and not had to fork out for gym memberships….well…we think that speaks for itself!
Happy New Year!
Sources:
https://www.apa.org/monitor/jan04/solutions.aspx
https://www.psychologytoday.com/au/blog/the-new-you/201405/most-common-new-year-s-resolutions-and-do-they-work
https://www.finder.com.au/top-10-new-years-resolutions
https://www.psychologytoday.com/us/blog/sleep-newzzz/201309/better-sleep-found-exercising-regular-basis-0