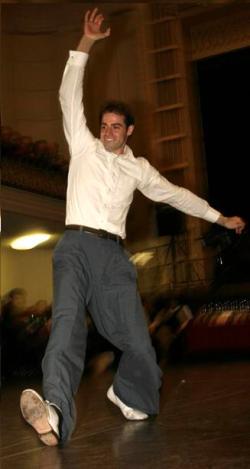 After taking up residency in Melbourne Andy started dancing in 2004. Andy loves teaching at North Melbourne every Thursday with his wife Shob Nambiar, and loves creating a fun, playful environment for all to explore their dancing. Andy's down-to-earth teaching style tends to relax those around him and his passion for swing dancing ends up rubbing off on his students.
He loves dancing with everyone from beginners to teachers, and tries to leave his partner smiling by the end of each song.
He's been very privileged to teach with an amazing teacher, dancer and choreographer Shob Nambiar, as well as many other great SP teachers over the years. Australian Teaching/Workshop credits include: Melbourne, Brisbane, Sydney, Canberra, Adelaide, Perth, Launceston, Hobart, And Andy and Shob have taught in Auckland (NZ) and Victoria (Canada) too. Andy has also taught performance troupes in Sydney and Melbourne with the talented trio of Shob Nambiar, Noni Clarke, and Cathie Gough.
Recent competition credits include:
AJC 2011
1st place – Showcase with Shob Nambiar

1st place – Blues with Shob Nambiar

(1st shine)

(2nd shine)
AJC 2010
1st place – Strictly Lindy with Shob Nambiar
1st place – Invitational Jack and Jill with Kathryn Kelly
MLB 2010
1st place – Teams Routine – Echoes of Harlem

AJC 2009:
1st place – Slow Lindy with Shobhana Nambiar
1st place – Invitational Jack and Jill with Tara Quinlivan
1st place – Showcase with Shobhana Nambiar

MLB 2009:
2nd place – Teams Division with 'Hot Ginger and Dynamite'
AJC 2008:
1st place – Slow Lindy with Shobhana Nambiar
1st place – Invitational Jack and Jill with Jess Faggian
2nd place – Fast Lindy with Shobhana Nambiar