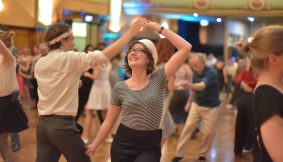 Annabelle started swing dancing in 2012 and quickly became obsessed with all the different styles of dancing within Swing. She has been passionate about reviving Collegiate Shag in Australia, with her dance partner Nial Bruce. Annabelle and Nial have taught and competed internationally, and are both a part of the shag troupe Double Rhythm Riot.
Annabelle is also passionate about Lindy Hop, and previously anchored Swing Patrol Oakleigh and Swing Patrol Richmond.
She enjoys performing and currently leads Swing Patrol's Solo Jazz troupe, The Bluebelles.
Annabelle loves getting out into the wider community and showing people how much fun dancing can be.
(photo credit: Fudz Qazi)