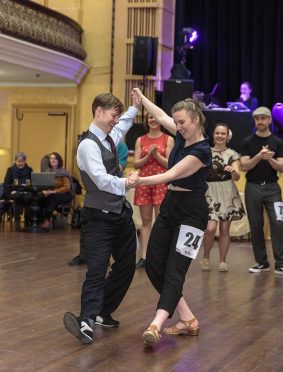 Ari is a highly experienced dancer in Lindy Hop, Balboa, Solo Jazz and Charleston.
Taking his first class at the turn of 2010, he has been frequently dancing ever since. He has previously been a part of the troupe Harlem Shout and entered every kind of swing dance competition, placing in Strictly Balboa and both Lindy hop and Balboa Jack & Jill competitions.
Ari is ubiquitous in the Melbourne swing dance scene, you will find him anywhere there is social dancing, both leading and following. While dancing with Ari you may go through a whole spectrum of different swing styles or do something completely new inspired by the moment. He believes social dancing is where the soul of swing dancing is and allows the best side of a person to be shown as it encourages joy, creativity and individual expression.
Ari has travelled nationally and internationally for dance workshops and is honoured to share this amazing dance that continues to give him so much joy.
When Ari is not swing dancing he is generally following other creative pursuits involving art, animation and video game development.
(photo credit: Cuskelly Photography)