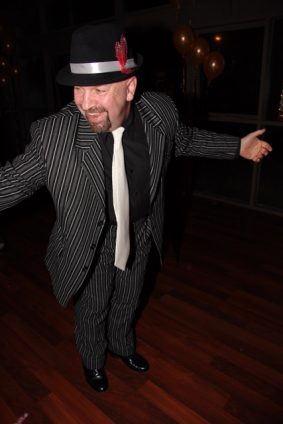 Bruce began dancing on the Swing Dance floor over ten years ago in Brunswick in Victoria. After dabbling in many of the Latin genre dances, taking several Tango classes and even some Ceroc and Rock & Roll, he is always drawn back to Swing because he agrees: it don't mean a thing if it ain't got that Swing.
He's since danced all over Australia and many countries overseas including the amazing Frankie 100 in New York City in 2014. Although comfortable with all the dances under the Swing umbrella, his favourites are Lindy and Blues and most particularly Blues Waltz.
With more than ten years' experience Bruce still considers himself an avid student and regularly attends classes and workshops all over Melbourne. A strong believer in the lead/follow balance in partner dancing, he is always working to improve his lead technique to allow his follows to have most enjoyable dance possible.
A regular at Brunswick and Elsternwick he is also often seen at Blues and all the local seasonal dancing events. In 2019 Bruce is stepping up his commitment to the dance community by taking on the challenge of teaching at Swing Patrol Point Cook with the fabulous Celia Webb.