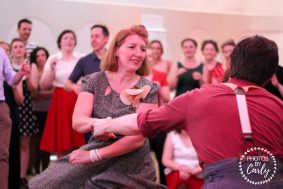 Celia discovered swing dancing by stumbling upon Swing Patrol dancers out in public and was instantly memorized by the cool tunes and energetic dancers – soon after she attended her first class in 1999 and became completely hooked, often taking classes and social dancing 6 days a week.
Celia loves the silent language of partner dancing and the fact that you don't need to speak the same language to be able to share a dance with someone! Teaching dance connection (lead and follow technique) and watching people grow into confident social dancers who love the dance as much as she does, brings her so much joy. If you ask her for a dance always do lots of swing outs because she loves being creative with her footwork too!
With almost 20 years of swing dance memories there are too many to list here but highlights would be dancing with Mr Frankie Manning himself when he came to Melbourne in 2002, being a Jack and Jill finalist in a New York City competition when only a beginner, and having Kieran Yee as her cadet!
In the past Celia taught our classes in Geelong, attended countless evenings at Melbourne Zoo Twilight nights, competed and performed around Melbourne in one of our first performance troupes, Scat Pack. We are so excited to have her back on the team.
(Photo credit: Photos by Carly)