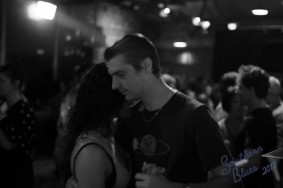 Chris was dragged to his first dance class almost kicking and screaming by his new wife, Chloe, on their cruise ship honeymoon. He even secretly practised the moves back in the room, and it wasn't long before they were back on land and into regular classes. Chris loved the raw energy and fun of his first classes with Swing Patrol Frankston, and instantly fell in love with Lindy Hop and all things swing dancing. Soon after he discovered Blues, and hasn't looked back.
Chris anchored the Frankston venue for four years before restarting Swing Patrol's Brat Pack (with the amazing Genevieve) in Melbourne, where he is inspired on a weekly basis by the enthusiasm and energy of the development troupe. Not satisfied with just a weekly venue, Chris teaches Blues every chance he gets and has been lucky enough to teach with most of Melbourne's best Blues dancers. Chris has been fortunate to be invited to teach at Swing Camp Oz, Borderline Blues, and Swing' the Blues. When Chris isn't teaching he gets on the social dance floor as often as he can. He has always found inspiration in social dancing and using that platform to develop his strong focus on connection. He believes a strong connection with a dance partner and the music is the key to amazing social dancing; he rigorously tests this theory often.
Chris is passionate about having the most fun social dances possible and ensuring that he teaches in a way that lets everyone have the most fun social dances possible.
(photo credit: Peter Anderson)