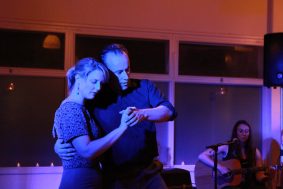 Corinne has been dancing since 2001 and loving every second! Over the
years she has embraced lindy-hop, blues and solo jazz and welcomes the
next adventure. Corinne's dancing life has included multiple troupes,
competitions, exchanges, overseas adventures and just getting down to
whatever's on at the local pub!
These days she is most excited about the connection, rhythm and
movement related to blues dancing.
(photo credit: Megan Mundy)