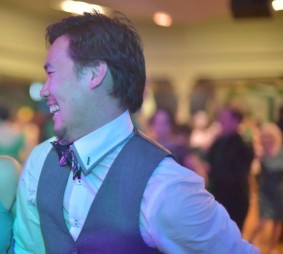 Ernie's dance background included ballroom, latin and hip hop. But in 2011 his world changed when he discovered the wonders of the Lindy Hop and was hooked! He enjoys performing, having been a member of multiple dance troupes including Swing Patrol's Brat Pack (2013); Harlem Shout (2014-2017); Shagpile (Collegiate Shag 2013-2016) and Double Rhythm Riot (2017 – current).
His favourite holidays incorporate travelling, sightseeing, food and swing dancing! This has taken him to many swing dancing exchanges locally and internationally including China, US and Sweden. He has also won and placed in swing dancing competitions locally and internationally – latest highlight 1st place J & J: Great Wall Swingout (China).
During the week he works as a physiotherapist analysing human body movement and incorporates this background into his understanding of the Lindy Hop.
Teaching since 2015, he loves bringing fun, creativity, friendliness, musicality, connection and rhythm to his dancing and teaching. He is very excited to share his passion and knowledge of swing dancing with you!