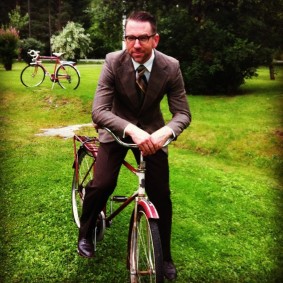 Jarrod began swing dancing in 2009 after being outclassed on the dance floor at a Melbourne watering hole by some 60-year-old hepcats with more moves than a chess piece on red cordial. The ensuing humiliation led him to a deep and dark place (like that spot behind the couch where things magically disappear) before ultimately finding redemption (and the TV remote) when he happened upon some swing dancing classes in inner Melbourne.
From there, the rest is … more reading.
Jarrod has placed in many Melbourne and interstate competitions in Australia. He is a current member and performer with Australia's premier swing dancing troupe, Echoes of Harlem, and teaches regular classes at Swing Patrol's CBD venue in Melbourne. In 2014 and 2015, Jarrod was creative director and instructor for Swing Patrol's corporate performance troupe Harlem Shout.
Whilst revelling in the intricacies of rhythm, flow, musicality, and lead and follow technique, Jarrod's teaching emphasises what swing dancing is really all about: FUN! He is best known for his skills and knowledge in Lindy Hop, Charleston, Blues/Slow dancing, Aerials and Solo Jazz, and his greatest inspiration is without doubt the JAZZ MUSIC, appreciating and taking inspiration from the expression of that music across any level of swing dancer. Jarrod has taught workshops both interstate and overseas and hopes to see you join him for a dance at Swing Patrol CBD.