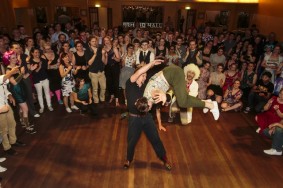 Krystian started dancing over 15 years ago. After some encounters with Ceroc and Salsa, he also spent some time in a "close embrace" with Tango. He then discovered Lindy Hop and quickly fell in love with its infectious joyfulness.
Swing took him around the world, chasing the bug at various events, competitions, workshops and exchanges in Europe, US, Asia and of course Australia and New Zealand.
Now based in Melbourne, he is extensively involved in the local scene with a regular presence at social events, competitions and performances, teaching weekly classes and working with various troupes and dance projects.
Krystian enjoys many genres under the umbrella of Swing Dance, from Lindy and Charleston to Balboa and Blues. He equally enjoys the high energy of swinging out fast and throwing aerials in jam circles and getting "zoned out" to slow bluesy tunes at late after parties.
Krystian is a firm believer in the fine interdependencies between technique and intricacies of partner connection, flow and momentum, musicality, and pure fun and playfulness.
He constantly seeks to improve his dancing, feeling as if he is only scratching the surface.
(photo credit: Cuskelly Photography)