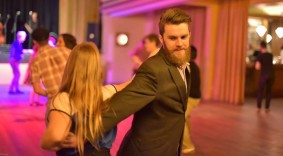 Nial started swing dancing in 2011 and he's been hooked ever since.
Quickly taking up an interest in Collegiate Shag, Nial has passionately been trying to revive the dance in Melbourne. He teaches Shag on a regular basis where he has been reinforcing the fundamentals of the style and providing a focus on fun social dancing. On top of this, Nial is part of the Shag Pile performance troupe, has competed in Lindy Hop and Shag, taken out awards at AJC, Australian Shag Camp, and reached the finals of the Shag division at Camp Hollywood.
Nial's philosophy on dancing is to never forget the fun.
(photo credit: Fudz Qazi)