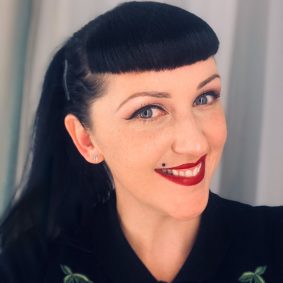 Noni Healy (Noni May Clarke) is one of Melbourne's most experienced and respected swing dancing teachers, having established an impressive array of credentials teaching all over Australia and internationally.
Noni first started swing dancing in the year 2000 and became instantly passionate about the opportunities dancing afforded for self-expression and creativity, and grateful for the chance dancing brought to meet a variety of new and exciting people.
After becoming a teacher in 2003, swing dancing has taken Noni to places such as New Zealand, South Korea, Herrang (Sweden), and nearly every city in North America. She is now a world-renowned teacher, who focuses on teaching conceptually, dancer rapport and breaking down the subtleties of technique whilst maintaining a fun and vibrant attitude. At the core of Noni's teaching philosophy is the need to make even the most complex ideas accessible. She excels in a number of swing dancing disciplines, including fast lindy, aerials, balboa, blues, Charleston, and solo jazz.
Noni has won many swing dancing competitions, including the World Hellzapoppin' Prize in 2004. She also currently performs with Australia's premier swing dance troupe, Echoes of Harlem, and teaches Swing Patrol's corporate troupe Harlem Shout. She's was also the original organiser for Swing Patrol's regular Blues Nights and the annual 'Blues Before Sunrise' festival.
Noni's other passions include Fine Arts (painting & drawing), singing, playing the double bass, swing & blues DJing, stilt walking, being a tattoo artist and a mum… basically anything creative!