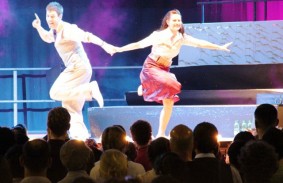 Sarah Wheaton is a world class dancer, performer and teacher of Lindy Hop and other swing jazz associated dances.
She has been teaching since 2001 and has many national titles to her credit. Sarah has travelled Australia and the world teaching, competing and dancing Lindy Hop and is very much admired for her charisma and energy on the dance floor.
Sarah is a foundation member of the elite swing dance troupe "Echoes of Harlem" where she is often seen defying gravity with her amazing aerial work and dynamic dancing.
As a teacher, Sarah is a firm favourite amongst students. Sarah's students will tell you that she is super fun, very approachable and is able to break down steps so that beginners and advanced dancers alike flock to classes. She regularly holds training sessions for other teachers and is admired for her understanding of the dance from a historical and modern perspective.
Sarah is excited to be anchoring the Swing Patrol Elsternwick and Melbourne CBD venues in 2018.